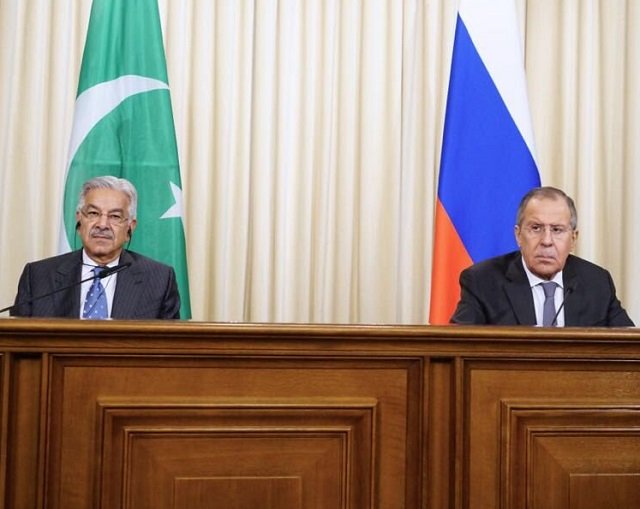 ---
Foreign Minister Khawaja Asif has said that Pakistan will not let others fight their wars on its soil.

Asif, who left for Russia on Monday on a three-day visit, stated this during a joint press conference in Moscow with his Russian counterpart Sergey Lavro.

The statement came a week after the United States put forward a motion to place Pakistan on a global terrorist-financing watch-list.

The minister reiterated Pakistan's commitment to the fight against terror despite the many losses the country has suffered. He also spoke about the threat the militancy poses to the entire region, identifying Daesh as the main challenge.


FM meets FM of Russia in Moscow today pic.twitter.com/X7ssRagazw

— Dr Mohammad Faisal (@DrMFaisal) February 20, 2018


The visit is being seen as an attempt by Islamabad to woo Moscow to its side to counter the US pressure.

Foreign minister visits Moscow on invitation of Russian counterpart

In a statement earlier, Foreign Office said Russia enjoys a special place in the country's foreign policy – an unprecedented expression used for a country that remained Pakistan's bitter cold war rival.

The United States has been threatening to get tough with Islamabad over its alleged ties with militants, and last month President Donald Trump's administration suspended aid worth about $2 billion.

Pakistan now considers Russia a key player and partner, not only to bring peace and stability in Afghanistan but also the wider region.

It is not only the political relationship but there has been an improvement in military-to-military ties between the former cold war rivals.

In 2016, Russia dispatched the first-ever batch of its troops to Pakistan for joint military exercises, signalling a remarkable shift in ties between the two countries.
COMMENTS (2)
Comments are moderated and generally will be posted if they are on-topic and not abusive.
For more information, please see our Comments FAQ