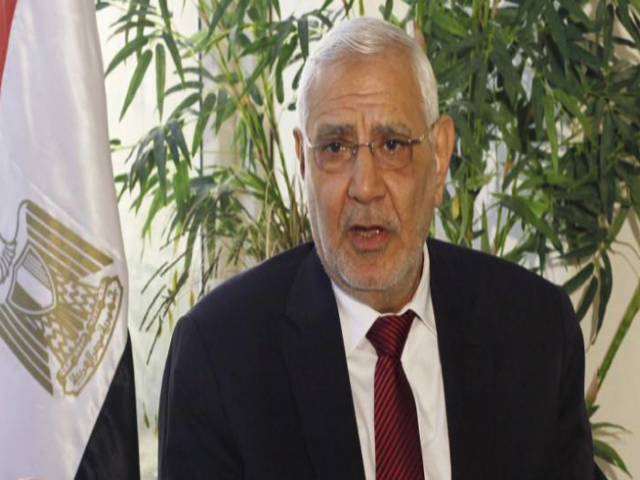 ---
CAIRO: An Egyptian court put former extremist presidential candidate Abdel Moneim Abol Fotouh on a terrorism list on Tuesday, state news agency MENA reported, following his arrest for alleged contacts with the banned Muslim Brotherhood.


Abol Fotouh was arrested last week a day after returning from London, where he had given interviews sharply critical of President Abdel Fattah al Sisi ahead of next month's presidential election.




The Interior Ministry said at the time that Abol Fotouh held secret meetings with leaders of the Muslim Brotherhood while in London to implement a plot to stir unrest and instability in the country, accusations he denied.




Sisi is almost guaranteed to win a second term in a presidential election slated for March 26-28, but the vote has been criticized by rights groups after a number of potential competitors called off their campaigns, citing intimidation, and a top challenger was arrested.




The electoral commission has said that it will ensure the vote is fair and transparent.




Abol Fotouh was among the first of several high profile Egyptians to call last month for a boycott of the election.




Individuals added to the terrorism list are generally subjected to an asset freeze and a travel ban and are permitted 60 days to appeal the decision.




Al Qaeda urges people to topple government as Egypt prepares for polls




Abol Fotouh's lawyer, Abdelrahman Haridy, told he had not yet been notified of the court's decision and that it was not yet clear if it included an asset freeze. He said the designation could "easily" be appealed in court.




"It's clear that there is an insistence on tacking charges on to political figures in order to intimidate all politicians, even for just saying their opinions," Haridy said.




Abol Fotouh along with 15 others were added to the list after an investigation by the state security prosecution found they had joined an outlawed organization "aiming to harm the interests of the state," MENA said, without naming the organization.




In an interview with Al Jazeera Mubasher, a Qatar based channel banned in Egypt, Abol Fotouh last week criticized Sisi in unusually pointed terms, accusing him of pulling the army into politics, failing to curb deadly attacks by extremist militants and mismanaging the economy.




The 67-year-old physician quit the Muslim Brotherhood in 2011 to mount an independent bid for the presidency in 2012, and has distanced himself from the group since then.




Egypt banned the Brotherhood in 2013 after extremist President Mohamed Mursi was ousted by the military following mass protests.




The group has since been declared a terrorist organization by the government but it maintains that its activities are peaceful.