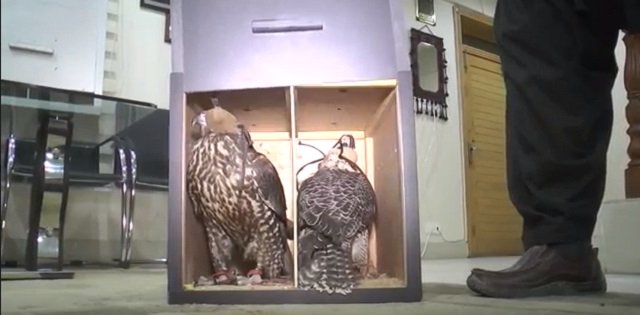 ---
QUETTA: The Balochistan Forest and Wildlife Department has seized four falcons being smuggled from Sharjah into Pakistan at the Quetta International Airport.

"I noticed a suspicious box and asked my staff to move it aside," said Forest and Wildlife Deputy Controller Niaz Kakar.

After opening the large wooden box, the airport officials were surprised to find falcons inside, officials said, adding that the value of these Australian, German as well as Arab falcons in the international market is said to be Rs10 million.

Peacock barred from boarding US flight

On Tuesday morning, the high-speed birds will be handed over to the local authorities.

Last year in May, a British national was arrested at the Benazir Bhutto International Airport for attempting to smuggle partridges out of the country. The birds were discovered while checking the luggage of passengers on Pakistan International Airlines (PIA) flight to Birmingham.

An FIR was lodged against the suspect under wildlife laws and the partridges were handed over to the wildlife officers.

Senators concerned over allowing Arabs to hunt houbara bustards

In 2016, authorities had foiled a bid to smuggle 36 rare partridges from Balochistan to Punjab. Back in 2013, a Pakistani man tried to smuggle 17 partridges into Manchester in small wooden crates, UK customs officials had claimed. Thirteen birds had died during the flight while the remaining four were sent to a vet.
COMMENTS
Comments are moderated and generally will be posted if they are on-topic and not abusive.
For more information, please see our Comments FAQ