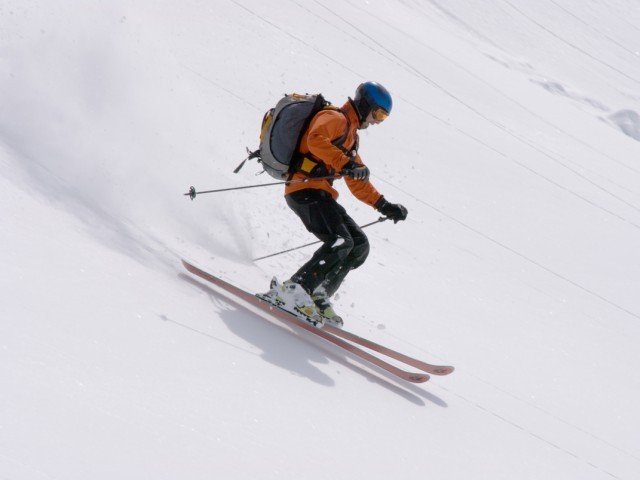 ---
PESHAWAR: Out of 300 participants, a promising 12-year-old, Humam Ahmad of Khyber-Pakhtunkhwa (K-P) created a new national record by winning National Snow Hiking and Trekking Championship organised collaboratively by K-P Directorate of Sports and the Alpine Club of Pakistan at hill resort Nathiagali on Sunday.

The Alpine Club of Pakistan is affiliated with International Climbing and Mountaineering Federation and International Federation of Sport Climbing which involved more than 300 men and women from across Pakistan in the championship for three different categories.

Hailing from K-P Humam Ahmad, who is also holding Pakistan No1 ranking in Under-11 category in squash, cleared a hectic distance despite heavily covered snow trek and got first position overall.

The Alpine Club Secretary General Abu Zafar Sadiq, and Secretary Alpine Association Khyber Pakhtunkhwa Najeeb Ullah Khattak praised Humam Ahmad of winning the gold medal in the National Hiking and Trekking Championship.

It is for the first time that 25-member male and female teams took part in the National Snow Hiking and Trekking Championship under the supervision of Directorate of Sports KP and Alpine Association K-P. Besides Humam Ahmad, Hanzala Zafar of Islamabad took silver medal while Humam's elder brother 14-year-old Haris got bronze medal.

In the Women's category Chaman Mushtaq of Islamabad recorded first position, followed by Saba Ahmad of Sindh and Mahjabeen of Gilgit-Baltistan.

In the men's overall competition, Sajid Aslam of Azad Jammu and Kashmir took the gold medal, Muhammad Riaz of Balochistan won silver medal and Junaid Ali of Islamabad got third position with bronze medal among 133 competitors.

Among women of K-P, Laiba Ahmad, Kalsoom, Zohra, and Kainat recorded fourth, fifth, sixth and seventh position out of a total of 112 contestants.  Among men representing K-P, Muhammad Bakhtiyar got overall fourth position, followed by Tahir Khan and Shamsur on Rehman fifth position.

Speaking on this occasion Abu Zafar Saqid praised DG Sports K-P Junaid Khan for extending all out support to the organising committee besides sending K-P teams for the championship for the first time in game history.

He said K-P boys and girls have a great deal of talent, which would become evident if provided due opportunities of snow hiking, trekking and mountaineering. He said there are more narrow hiking and trekking spots at Nathiagali, famous for its scenic beauty and trekking.

He said players from across Pakistan took part in snow hiking and trekking under the pine and oak trees and lush green grass, adding to the beauty of Nathiagali.

The mountains in Nathiagali are great for trekking, he said, adding: "the Championship attracted large number of youth both male and female in this adventurous sport. This venture was financed by the DG Sports, KP with the intention of providing ample opportunities to the youth to come."

He said, the trekking started from the Governor House till Miranjani Hill which is the tallest in that area and the height is 2,960 meters. The participants were divided in three different categories. The first category is boys Under-20 years of age took part in the contests exclusively for males, followed by categories including girls and other youths.

He said after day long trekking, which also attracted tourists from the entire country and foreigners as well. Nathiagali is also a great station in the snowfall season, he said, adding, "It is covered with snow entirely, which adds to its scenic beauty."

He said a final selection would be made so that all the top position holders would be kept in the camp for further training so that they could represent Pakistan in the international events as well.

At the end, he distributed medals and trophies to the position holders. He also appreciated Najeed Ullah Khattak for his efforts in fielding KP players in the national event.

Published in The Express Tribune, February 19th, 2018.
COMMENTS
Comments are moderated and generally will be posted if they are on-topic and not abusive.
For more information, please see our Comments FAQ