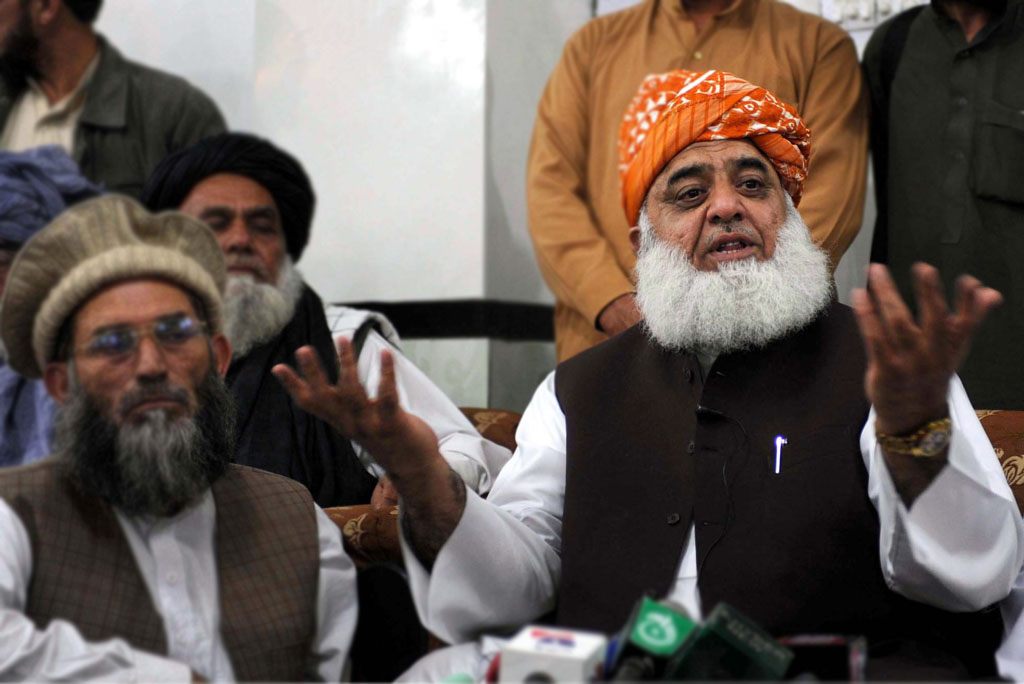 ---
HYDERABAD: Challenging Pakistan Peoples Party (PPP) to organise as big a power show in Sindh as Jamiat-e-Ulema Islam-Fazl, the party chief Maulana Fazlur Rehman said his party will provide leadership to people of this province.

"JUI-F brought to an end the rule of Khans and Sardars in Balochistan," Rehman boasted before a large public meeting, titled 'Islam Zindabad Conference', of his party in Hyderabad on Sunday. "We will do the same in Sindh."

The JUI-F chief claimed that the PPP could not gather as many people to match JUI-F's recent public meeting in Larkana even though the city has remained the PPP's headquarters.

In dealing with PPP, govt gives JUI-F chief cold shoulder

Rehman also expressed his grievances with the establishment and the judiciary. He said when the PPP-Parliamentarian chairman Asif Ali Zardari was in power in the centre, a slogan of change was raised but he was replaced by former prime minister Nawaz Sharif.

"When Zardari no longer remained in the central government, all his crimes have gone behind the curtain as if he has done nothing. Our courts gave him a clean chit," deplored the JUI-F supremo.

He complained that the JUI-F is not being given a fair play in the electoral politics. "Don't impede our activities. Why do you hide the reality when the nation gives JUI-F votes," claimed the JUI-F leader.

Rehman said his party does not desire to become a part of the daily media game. "You will have to give us way in the elections. We have to rectify this system. The institutions are respectable, but their actions should not show discrimination," he said.

Party woes: Former JUI-F MPA resigns over alliance with QWP

The JUI-F chief said India is bombing Pakistan's border and people are being martyred in Kashmir. "On the other hand we have Afghanistan which is under the clout of India. We are being surrounded by all sides," he added while commenting on the country's foreign policy.

Rehman alleged that in the name of fighting terror, actions are being taken against religious leaders, ulema, mosques and seminaries. He vowed that the secular forces will not be allowed to turn Pakistan into a secular state.

The JUI-F leader demanded that chief justice should take suo moto notice of 2015 murder of Maulana Khalid Mehmood Soomro, the party's Sindh president.

Maulana Muhammad Amjad Khan, Maulana Rashid Mehmood Soomro, Maulana Muhammad Saleh Sajawali, Maulana Taj Mohammad Nahiyon and other party leaders also spoke at the gathering.
COMMENTS
Comments are moderated and generally will be posted if they are on-topic and not abusive.
For more information, please see our Comments FAQ