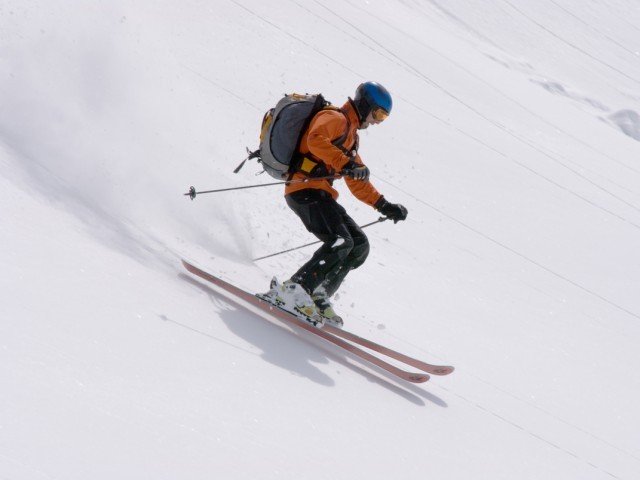 ---
KARACHI: Pakistan's Muhammad Karim made his second appearance for the country at the Winter Games giant slalom event and finished on the 72nd rank, clocking two minutes and 54.04 seconds in Pyeongchnag on Sunday.

Karim managed to finish the two runs with a better average above Puerto Rico and two athletes from North Korea as only 75 skiers finished the race, while 34 out of 119 skiers did not finish the race.

With the 72nd position Karim scored 225.85 points after two runs whereas his performance at the 2014 Sochi Olympics gave him 226.79 points and he was 71st in the race out of 109 athletes.

Austria's Michael Hirscher took the gold medal while Norway's Henrick Kristofferson bagged the silver medal and French skier Alexis Pinturault finished third in the competition.

Meanwhile, earlier Syed Human also made his debut for Pakistan at the cross-country event where he finished at the 108th place with 274.80 points.

"It was a tough course," The Ski Federation of Pakistan secretary Shahid Nadeem told The Express Tribune from Pyeongchang. "Karim is more confident now. Of course this is his second time at the Olympics so we are hoping for a better performance in the next event. Many skiers couldn't even finish the race so it says a lot that it wasn't easy at all."

Karim's starting rank was also affected as he had to skip one of his international races for points last month, where he had to come home early as his mother passed away.

Meanwhile, Karim will be making the debut for Pakistan in the slalom event on February 23.

This is the first time Pakistan sent two skiers who are competing in three events.

Pakistan only began sending the skiers to Winter Games in 2010, when Muhammad Abbas made the debut for the country in Canada, while Karim participated in Sochi.
COMMENTS (2)
Comments are moderated and generally will be posted if they are on-topic and not abusive.
For more information, please see our Comments FAQ