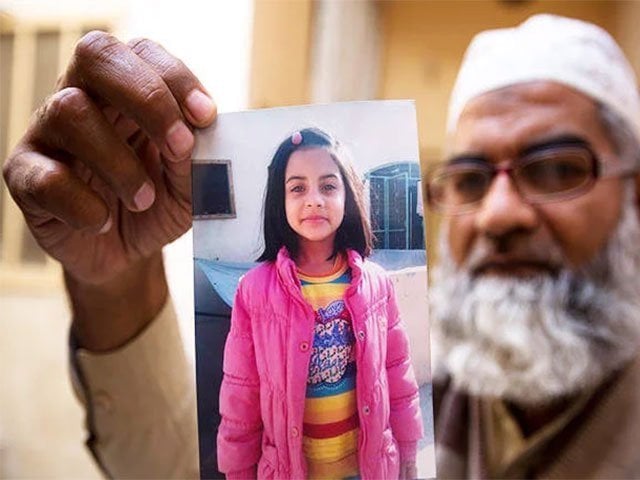 ---
Expressing satisfaction over the verdict of an Anti-Terrorism Court (ATC) in Lahore that handed down death sentence on four counts to the culprit in Zainab rape and murder case, the eight-year-old victim's family has demanded public execution for the convict, Imran Ali.

Speaking to reporters in Kasur on Saturday, Zainab's mother said the court had handed down a just and right punishment to the rapist and murderer of her child, Express News reported.

"We agree with the judge's verdict, but we still demand that he [Imran Ali] should be hanged in public… he should be hanged at the same place where he took our child," she said.

Zainab's uncle thanked the media for supporting the family and highlighting the issue. Expressing satisfaction over the court verdict, he said the convict must be hanged in front of public 'so the whole world could watch'.

ATC announces death sentence on four counts to culprit in Zainab rape, murder case

"Our demand is just and in accordance with the teachings of Islam… and if the demand of amending the Constitution for the public execution of the culprit is met then nobody would even think about committing such a sin."

The verdict was announced in Kot Lakhpat jail amidst tight security earlier today. Zainab's father was also present for the verdict.

Imran Ali was sentenced on four grounds—murdering a child, kidnapping a child, rape of a minor, and committing an unnatural act with a minor. He has also been sentenced to seven years in jail with a fine of Rs1 million for desecrating the body of a minor.

According to the police investigation, the convict took Zainab to an under-construction house where he raped and killed her and later threw her body at a dumping site near her house. Zainab was kidnapped from near her aunt's house in Kasur on January 4. Her body was discovered five days later.

The public demand for immediate arrest of the culprit resulted in an unprecedented search in which almost all law enforcement and secret agencies took part.
COMMENTS (2)
Comments are moderated and generally will be posted if they are on-topic and not abusive.
For more information, please see our Comments FAQ