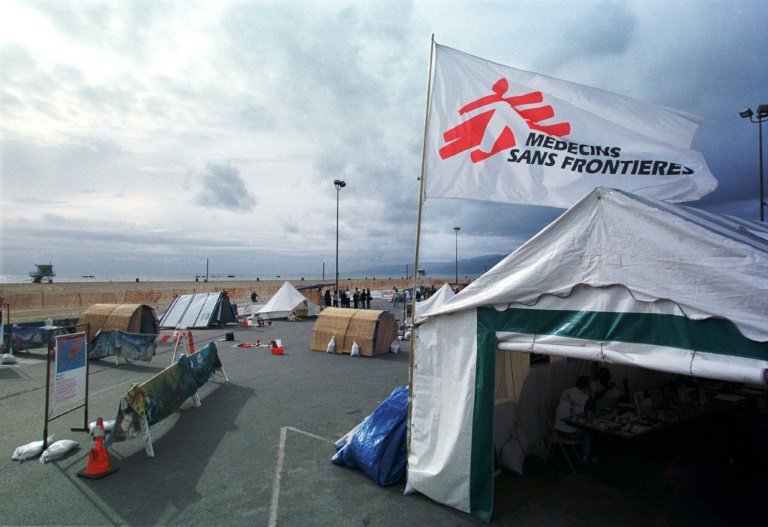 ---
PARIS: A scandal over sexual abuse in the foreign aid industry that began with Oxfam spread Wednesday, as French group Doctors Without Borders revealed it had fired 19 staff last year for harassment or abuse.

The Paris-based group, known by its French acronym MSF, said it had received 146 complaints or alerts last year, of which 40 were found to be allegations of harassment or sexual assault.

It said in a statement that it had acted on 24 of these cases, firing 19 employees as a result.

Oxfam International boss says Haiti scandal 'breaks my heart'

With 40,000 staff around the world, MSF is one of the world's largest aid groups, best known for its work offering medical aid in conflict zones.

"Even though reports of abuse have steadily increased, MSF is aware that abuse goes under-reported," the charity said.

The revelations came as Oxfam grapples with allegations that it was not transparent about a scandal involving some of its staff for using prostitutes in Haiti following a devastating 2010 earthquake.

The scandal has led to the resignation of Oxfam's deputy head and has thrown into question British government funding for the charity, which amounted to around £32 million (36 million euros, $44 million) last year.

Deputy head of UK charity Oxfam quits over Haiti sex scandal

Britain warned on Wednesday it would cut off ties with foreign aid charities that cover up sex scandals.

"Unless you report every serious incident or allegation, no matter how damaging to your reputation -- we cannot be partners," Britain's International Development Secretary Penny Mordaunt told a conference in Stockholm, according to extracts of her speech released by her ministry.

Mordaunt called the Haiti prostitution allegations "horrifying".

An Oxfam spokesperson on Wednesday said the aid agency had received 1,270 cancellations of donations by direct debit between Saturday and Monday - compared to a normal monthly average of 600.

The allegations revolve around Oxfam's then head of mission in Haiti, Belgian national Roland van Hauwermeiren, whose behaviour had already led to complaints when he worked for the charity in Chad.

After resigning from Oxfam, he went on to work for French charity Action Against Hunger in Bangladesh.

There were reports on Wednesday that there had already been complaints about Van Hauwermeiren and his use of prostitutes when he was working for the British medical charity Merlin in Liberia before joining Oxfam.

Swedish former aid worker Amira Malik Miller told the humanitarian news agency IRIN that she had made a complaint about him in 2004 when she was working alongside him in Liberia.

When she saw an initial report about Van Hauwermeiren in The Times newspaper last week, she remembered thinking: "Oh my God, he's been doing this for 14 years."

"He just goes around the system... from Liberia to Chad, to Haiti, to Bangladesh. Someone should have checked properly," Malik Miller was quoted as saying.

Oxfam confirmed reports late Wednesday that another Haiti country director, Damien Berrendorf, was dismissed in 2017 after five years in the post.

"The dismissal was not related to sexual misconduct and was not connected to the case in 2011, however, there were allegations of inappropriate behaviour," an Oxfam spokesperson said.

Bill Gates to be world's first trillionaire by 2042: Oxfam report

Oxfam's internal investigation into the use of prostitutes in Haiti led to the dismissal of four employees and three others being allowed to resign, including Van Hauwermeiren.

"They let perpetrators go. They did not inform donors, their regulator or prosecuting authorities," Mordaunt said.

"It was not just the processes and procedures of that organisation that were lacking but moral leadership."

CAFOD said Wednesday it had fired an employee after learning he was involved in the Haiti scandal.

He was hired in 2014 and provided two references, including one sent from a private email account by someone who said they had been his manager at Oxfam.

"We requested and yesterday received a reference from Oxfam GB headquarters which confirmed the allegations against him," CAFOD director Chris Bain said in a statement.

British actress Minnie Driver quit her role as an Oxfam ambassador late Tuesday, saying she was "devastated" by the charity's response to the scandal.

Several sponsors and partners of Oxfam including Visa and the retail chain Marks and Spencer have also said they are examining the situation.