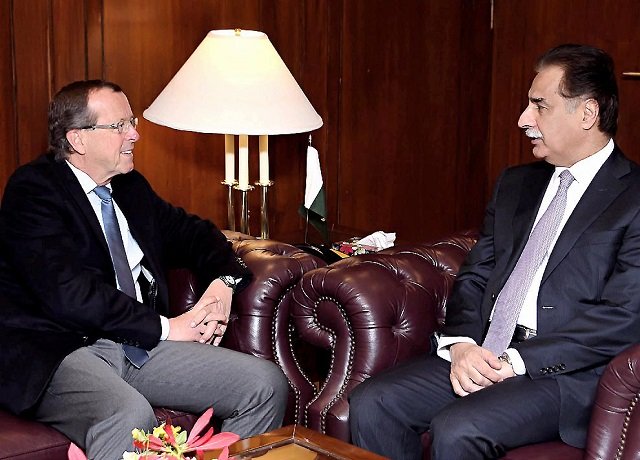 ---
ISLAMABAD: National Assembly Speaker Sardar Ayaz Sadiq has said that Afghanistan is a neighbouring country and restoration of peace there would favour Pakistan and the entire region.

Pakistan would like to have good relations with the United States as well as with all neighbouring countries based on mutual respect and equality, he said while speaking to German Ambassador Martin Kobler at the Parliament House in Islamabad on Tuesday.

The NA speaker separately met a German delegation comprising senior officials of the Federal Academy of Security Policy for its 2018 Course.

He said that Pakistan and Germany enjoyed cordial and cooperative relations, which needed to be further strengthened through substantive and long term parliamentary and economic cooperation.

Sadiq also emphasised the need for a regular interaction between political leadership, parliamentarians and people of the two countries that would take the existing relations to new heights.

Underlining the need for exploring possibilities, the NA speaker said Pakistan had potential for investment with emphasis on trade and development for enhancing cooperation between the two countries. This will strengthen impetus of bilateral economic relations among the two countries, he added.

German ambassador assures continued support

Exchanging views on global and regional issues, he remarked that Pakistan had a keen interest in promoting regional stability and was making consistent efforts for regional peace and economic stability.

The speaker asserted that Germany remained one of the vocal and staunch supporters of Pakistan and political engagement between the two countries will bring the nations closer and pave ways for inter-parliamentary diplomacy and cooperation.

Answering a question regarding stability in Afghanistan, the speaker said Pakistan wanted to strengthen relations with Afghanistan and work together for peace and prosperity in the region.

"Pakistan and Afghanistan are victims of terrorism and both suffered a lot from the menace of extremism. Joint strategy and closer cooperation to address the root causes of terrorism are needed between the two neighbours," Sadiq said.

He also briefed the visitors about a recent trip of a high-powered parliamentary delegation to Afghanistan and shared the detail of the meetings with Afghan leadership.

The speaker also informed the objectives of the First Speakers Conference held in December, 2017 where speakers from Russia, Turkey, Iran, China and Afghanistan discussed the ways to tackle the menace of terrorism in the region as well connect with each other for prosperity and development.

German envoy tries out Namak Mandi karahi, gets haircut in Peshawar

Commenting on Pakistan-US relations, the speaker said Pakistan wanted good relations with the US based on mutual respect and equality. All the political parties in the Parliament were on the same page on the issues of Pak-US relations that the country's foreign policy would never be shaped under any foreign influence, he said.

While answering a question about Pak-India relations, Sardar Ayaz Sadiq said Pakistan desired better bilateral relations with India without compromising its dignity and honour.

"Moving forward with India is not possible by brushing Kashmir issue aside. Regional peace and inclusive development, not only for the sub-continent but for the entire region will remain a mere dream, if the international community keeps side stepping the Kashmir issue," the NA speaker said.

The German envoy said his government also attached immense importance to its relations with Pakistan and wanted to further cement them through cooperation in diverse fields. He agreed that frequent interaction between business communities and parliamentarians would be beneficial for both the nations.

He also highlighted that Germany as Europe's largest economy, is keen to maintain intensive and friendly relations with Pakistan. Kobler further said that Germany would continue to support Pakistan at the regional as well as international level in its efforts towards achieving democratic and economic development.
COMMENTS (1)
Comments are moderated and generally will be posted if they are on-topic and not abusive.
For more information, please see our Comments FAQ