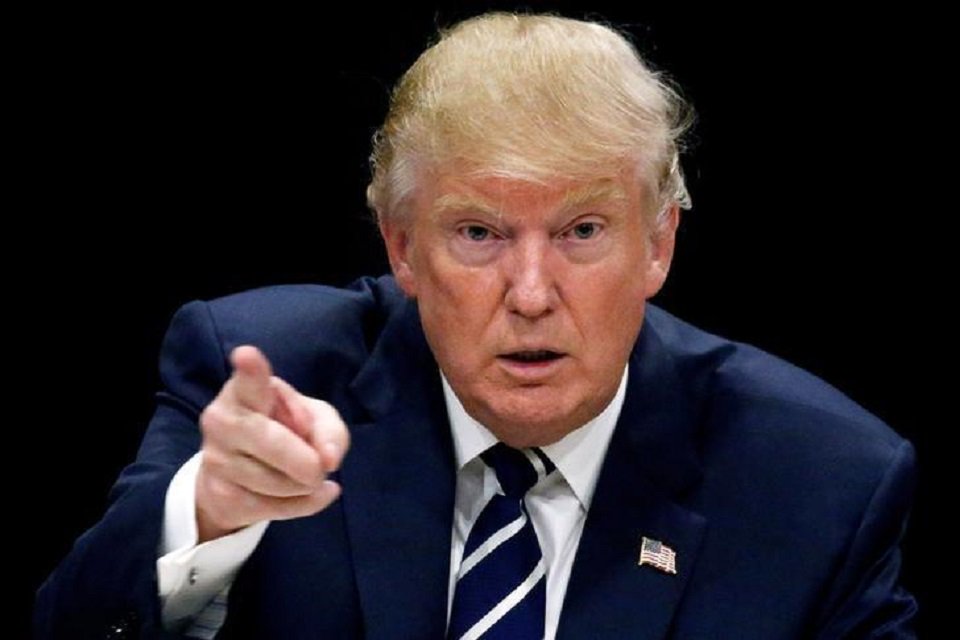 ---
WASHINGTON: The citizenship hopes of 1.8 million immigrants brought to the United States as children hung in the balance Monday as Congress launched debate on the hot-button issue, with President Donald Trump eager to "make a deal" on new legislation.

In offering a path to citizenship for so-called Dreamers, Trump has exceeded the demands of opposition Democrats - but only in exchange for tough cutbacks on overall immigration and funding for a massive wall on the Mexican border.

Trump's proposal was front and center as senators began an unpredictable course that could yield a long-sought breakthrough on immigration or end in failure - with hundreds of thousands of immigrants at risk of losing their legal protections early next month.

Mexico detains hundreds of US-bound migrants

"I hope to be able to make a deal," Trump said, adding that the Republican Party would "love" to reach an agreement.

"If the Democrats want to make a deal, it's really up to them."
On Monday, the Senate easily voted to advance toward a full and open floor debate on immigration, one that could take weeks.

Trump himself is expected to play an influential - but perhaps destabilizing - role in the process. His U-turns on some aspects of the sensitive issue have unsettled Democrats and some Republicans.

Meanwhile, a group of conservative senators introduced legislation that closely follows the proposals Trump made in January, and it got an endorsement from Senate Majority Leader Mitch McConnell.

The Secure and Succeed Act offers a 10- to 12-year path to citizenship for Dreamers. But it also ends the popular diversity lottery system and sharply limits family-based immigration.

Trump proposes US citizenship plan for 1.8 mn undocumented immigrants

It also allocates $25 billion for tighter border security, including construction of a wall along the US-Mexico border that Trump promised during his 2016 election campaign.

"This is the only bill that has a chance of becoming law, and that's because it's the only bill that will truly solve the underlying problem," said Senator Tom Cotton, a lead sponsor of the legislation.

Cotton also suggested Trump was done negotiating. "The president's framework is not an opening bid in negotiations. It is a best and final offer," he told reporters.

The Senate's turn to immigration began as the White House unveiled Trump's 2019 budget framework, which asks for increases in funding to secure "porous borders," including for additional agents, detention centers and high-tech equipment such as drones.

Several Democrats have said Trump's plan is dead on arrival because it would so dramatically curb legal immigration.
Top Senate Democrat Chuck Schumer said it was time for a "narrow" solution for Dreamers and border security that does not overhaul broader immigration policy.

"Democrats and Republicans are working hard to find a bill to protect the Dreamers and provide border security that will garnish 60 votes," he said, referring to the threshold for advancing legislation in the 100-member chamber.

"No easy task," he added. "It's like threading a needle."
McConnell, for his part, has pledged to oversee a process by which both sides can introduce amendments.

He agreed to the open-ended floor action - rare in a Congress gripped by partisanship - after Democrats voted to help end a three-day shutdown last month that was a result of immigration disputes.
With the fate of Dreamers in limbo, a bipartisan group of about 25 senators known as the "Common Sense Coalition" is working on compromise legislation.

The clock is ticking: many of the 690,000 Dreamers who are registered under the Obama-era Deferred Action for Childhood Arrivals (DACA) program could begin losing protections from expulsion early next month.

Trump scrapped the scheme in September and gave Congress six months to craft a permanent fix.

The program's March 5 expiration date is not set in stone, however. A San Francisco judge's injunction has at least temporarily blocked removal of DACA protections ordered by Trump.
Cotton's bill could meet stiff resistance.

Trump says an immigration deal by March 5 'could very well not happen'

Democrats and some Republicans have opposed Trump's hardline stance, especially the restriction of family-based immigration to spouses and children, and massive funding for the border wall.

Trump's Democratic opponents had originally pushed only for a permanent solution for the DACA registrants, in separate legislation.
By expanding the promise of citizenship to all DACA-eligible young immigrants - and tying it to immigration cutbacks - Trump has put the Democrats in a corner.

The president has blamed domestic terror attacks and violent crime on beneficiaries of the visa lottery and family-based "chain migration."

Should an immigration compromise pass the Senate, its fate in the House would remain unclear, in part because some conservatives oppose legalizing undocumented migrants.
COMMENTS
Comments are moderated and generally will be posted if they are on-topic and not abusive.
For more information, please see our Comments FAQ