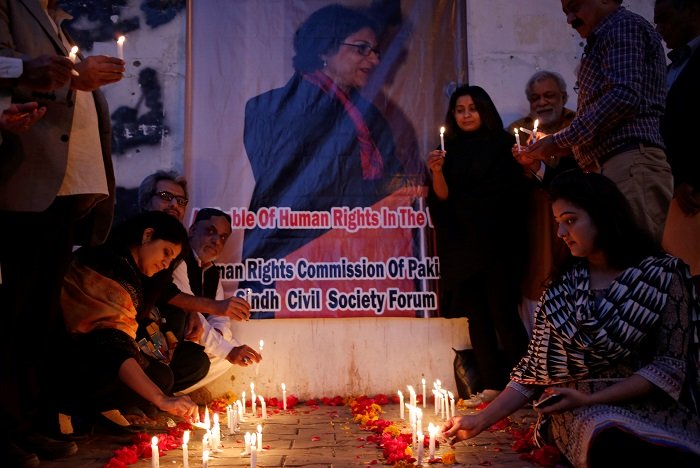 ---
KARACHI: Women rights activists and civil society members paid on Monday glowing tribute to human rights giant Asma Jahangir. The celebration of National Womens Day on Tuesday was dedicated to the matchless struggle waged by Jahangir, who, according to women rights activists, was a role model to be followed by coming generations.

The programme was organised by the Sindh Commission on the Status of Women in collaboration with the Sindh government's women development department and civil society organisations, including the Strengthening Participatory Organisation (SPO) and Health and Nutrition Development Society (HANDS). The programme took place at the Arts Council of Pakistan, Karachi.
Opinions and comments were shared by key guest speakers on the greatness and struggles against a series of 'anti-women' laws passed by General Ziaul Haq.

Heart of gold: The Asma Jahangir few knew

Nuzhit Shireen, chairperson of the Sindh Commission on the Status of Women, attributed the celebration of National Womens Day to the memory of late Jahangir.

"In her teenage years, she came out on the roads against black laws and became an icon of hope," she said.

Sindh Human Rights Commission Chairperson Justice (retd) Majida Rizvi recalled the challenges of the structural bars made through the Hudood Ordinance in Zia's era that went against the principles of justice and discriminated on the basis of law and perception that women were inferior to men.

Woman who stared down dictators is gone

Special Assistant to the CM on Women Development Erum Khalid highlighted Jahangir's great efforts in making people, especially women, more empowered on the principle of equality.

"In a country where women were being victimised in the name of a draconian law, it was Asma who stood up and proved to be a beacon of hope for the new generation," she said.

Anis Haroon shared that during the Zia era, women and minorities were repressed through the Hudood Ordinance and Evidence Act and a ban was imposed on political parties and civil society organisations.

CM Sindh requests state funeral for Asma Jahangir

There were certain women, including Jahangir who protested against these laws terming them as inhuman and against the principles of justice, said Haroon.

SPO Regional Coordinator Raheema Panhwar not only lauded Jahangir's services, but also briefed the audience about the legislation on women in Sindh.

"The Sindh government, under the progressive pro-women legislation, notified pro-women structures such as the Sindh Commission on the Status of Women to ensure protection of economic, social and legal rights of women," said Panhwar, adding that under this law, provincial and district level monitoring committees will restraint child marriages and there will be appointment of protection officers to respond to domestic violence cases.

Rest in power: Condolences pour in for Asma Jahangir

Women rights activists, including Aurat Foundation's Mahnaz Rehman, Bushra Araen, Shireen Ijaz, Rahila Raheem, Mussrat Jabeen, Malka Khan, Mangal Sharma, Qamrun Nisa Dhamrah, Farhat Parveen and transgender activist Shahzadi Rai also lauded Jahangir's services and paid rich tribute to her.

Request for state funeral

Chief Minister Murad Ali Shah requested on Monday Prime Minister Shahid Khaqan Abbasi to consider a state funeral for Jahangir.

In a letter written to the premier, the CM asked the federal government to "honour her decades of selfless service to the nation."

In addition to this, the Sindh government announced a day of mourning for the human rights activist and lawyer and sought permission to fly the national flag at half-mast during her funeral today (Tuesday).

The letter was faxed to the PM's secretariat and also dispatched through courier.