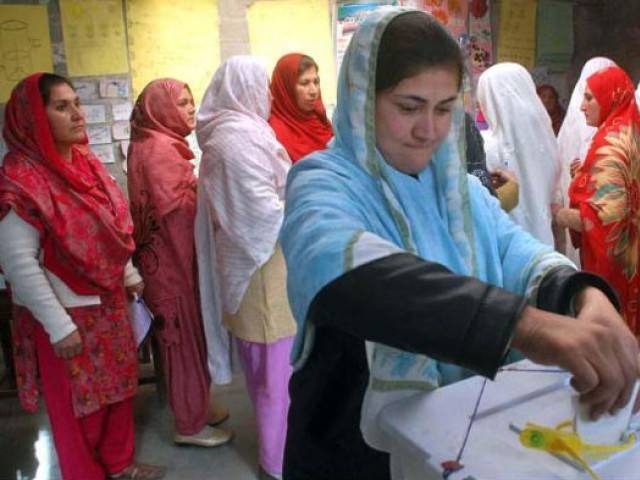 ---
With another by-election not featuring any woman candidate and a growing gap between registered male and female voters, there is a need to bring women into the political mainstream.

The call was made by the Centre for Peace and Development (CPDI), an independent not-for-profit civil society organisation working on issues of development and peace, on the eve of National Women's Day.

CPDI noted that since 1983, seven governments have come and gone but there has been no substantial change in the status of women — apart from one that Pakistan got a woman prime minister.

Even as National Women's Day is observed, a by-election in NA-154 Lodhran-I — where ten candidates are competing for the seat — none of them is a woman.

Pakistan fourth worst country for women: study

Moreover, it pointed out that the Election Commission of Pakistan (ECP) had unveiled that there were 97.02 million registered voters in Pakistan, of which 54.4 million were men while 42.2 million were women with a gap of over 12 million, a situation which the CPDI termed as perturbing.

Moreover, CPDI's election observation reports reveal that despite the long struggle of women for political empowerment, their participation in the political process remains well below average.

The most recent example of this was the by-election in PP-20 Chakwal-I where CPDI observed low women voter turnout with 14 women voters on average casting their vote in an hour at sampled female polling booth as compared to 20 men at the male booths in the same time.

'Employers should respect womens' rights' 

"ECP's effort to mobilise women voters and the provisions of section 12 (C) of Elections Act 2017 have not paid off yet. The stakeholders need to take corrective measures to mainstream women in political life," CPDI said.

Raja Shoaib Akbar, a senior programme manager at CPDI said that even though women in Pakistan have entered politics, thanks to the quota of reserved seats, the female population and a major segment of society remain alienated from active political participation, a limitation of true representation needs which needs to be taken seriously.

Published in The Express Tribune, February 12th, 2018.