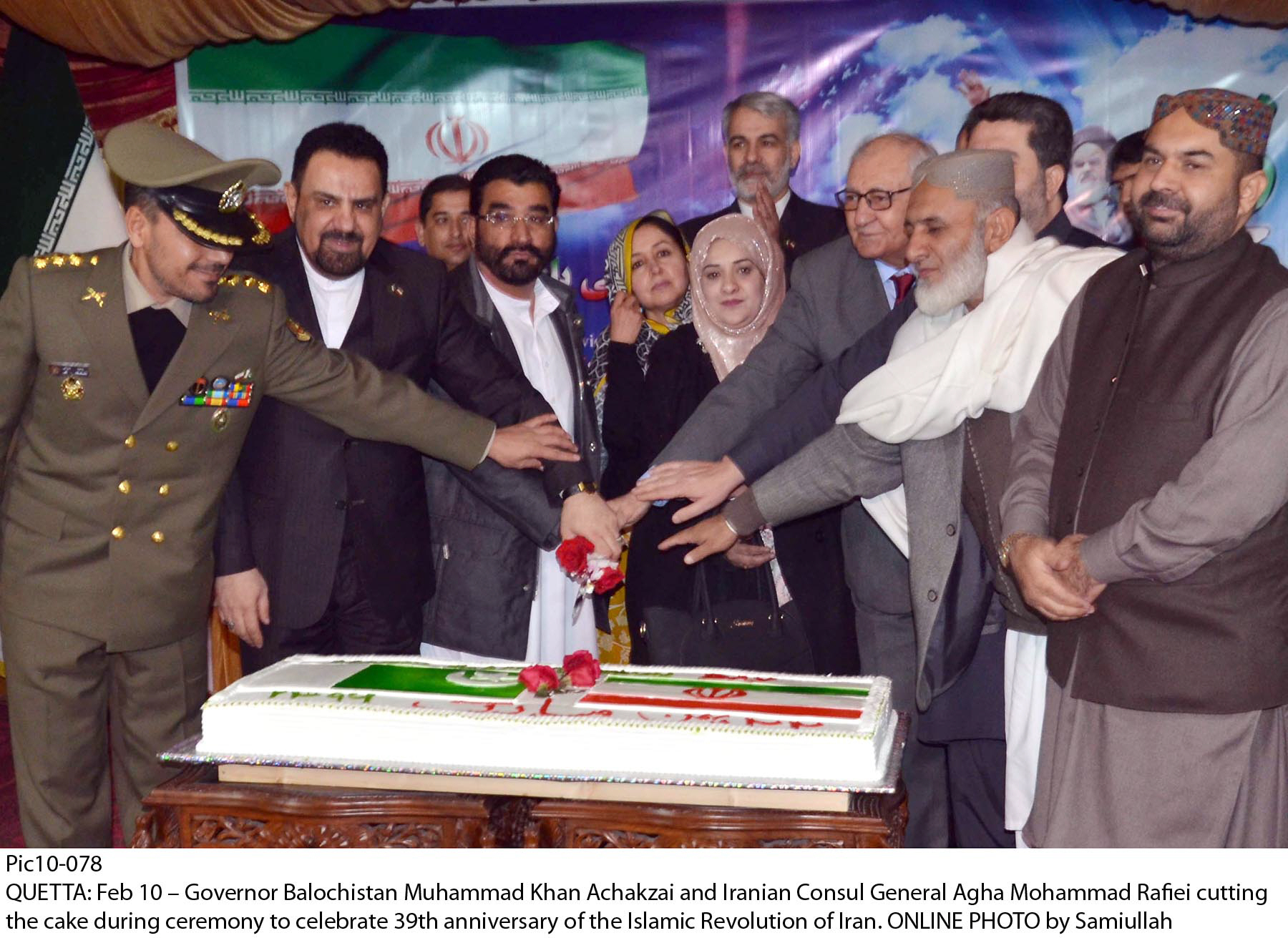 ---
QUETTA: Iranian Consul General Agha Mohammad Rafiei has said that the Pak-Iran business level will soon be increased to $5 billion yearly from the current $1.5 billion.

"Both counties have time-tested prolonged brotherly ties," the consul general said while addressing a seminar on the 39th Anniversary of the 1979 Islamic Revolution in Iran at the Quetta Press Club on Monday.

Enemies stirring up hatred between Iran and Pakistan, warns Iranian minister

Balochistan Governor Muhammad Khan Achakzai, Provincial Minister for C&W Mir Asim Kurd Gelo, PPP Provincial President Haji Ali Maddad Jattak, JI Provincial Ameer Maulana Abdul Haq Hashmi, BNP Vice President Abdul Wali Kakar and other officials were in attendance.

Rafiei said Pakistan was the first country to officially concede and welcome the regime change and Islamic revolution in Iran.
"Both nations have traditional, religious and business ties since decades," he said, adding that officially it has been decided to increase Pak-Iran business level to $5 billion from the current $1.5 billion.

Iran urges cooperation with Pakistan to counter US

Pakistan and Iran have strategic importance in the region as they have over 1,000km land and sea borders, he added.

On Pak-Iran trade via Balochistan, the consul general said, "Balochistan is a gateway for trade between both the countries. Pak-Iran Joint Chamber of Commerce is paving ways for business opportunities to take shape."
He said the previous Pak-Iran joint border trade session was held in Zahedan and the 21st Border Commission Committee session was held in Gwadar where both the countries had signed numerous trade deals.

Pakistan, Iran agree to resume fortnightly train service

"The joint trade venture is bringing the masses of both the countries closer," Rafiei added.
On joint operations against terrorists, the consul general said, "Pakistani and Iranian forces are taking joint measures to prevent terrorist attacks in order to bring peace and instability in the region."
He also urged the neighbouring countries to play an active role for bringing peace in the region.