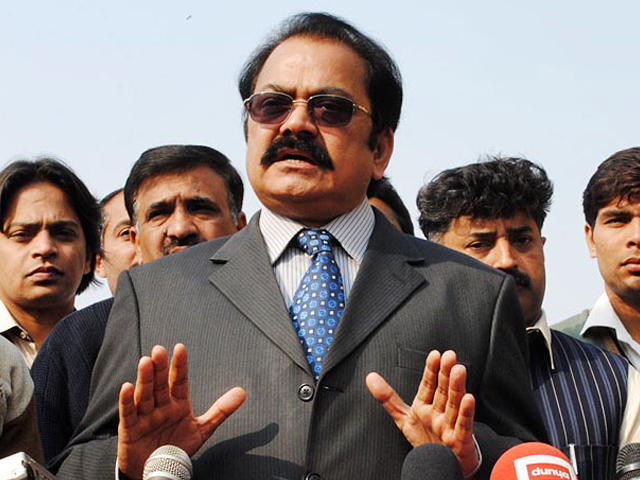 ---
LAHORE/ISLAMABAD: After Supreme Court registry hearing on three different cases on Sunday, Punjab Law Minister Rana Sanaullah while speaking to media said the Chief Justice of Pakistan Justice Saqib Mian "expressed his wish to see Pakistan Muslim League-Nawaz (PML-N) win the next general elections."

An interesting dialogue between the Punjab Chief Minister Shehbaz Sharif and the CJP occurred during the hearing.



Shehbaz said the existence of free and fair judiciary was necessary. On which, the CJP commented that he wished this thinking was also prevalent in his [Shehbaz's] party. The CJP said on a lighter note that if PML-N won upcoming elections, he wished to see him [Shehbaz] as the prime minister.

SC takes suo motu notice of extrajudicial police encounters in Punjab

However, while speaking to media, Sanaullah stated CJP had "expressed his wish to see PML-N win the next elections. We hope this wish of his comes true."

However, soon after Sanaullah's comments outside the court, the SC stated that his comments were "totally false and concocted."

"CJP did not express any desire for PML-N to be in the next government. Supreme Court denies Rana Sanaullah's statement and remarks made regarding the CJP are false."

During his media talk, Sanaullah also said PML-N has always given due respect to courts. "Punjab CM appearance before the court is proof of this claim that he also respects the decisions of the court."

Sanaullah stressed that it is the wrong impression that his party only criticises courts decisions. He further said Inspector General of Police and Punjab Chief Secretary have already made the decision to remove barricades from all roads except two roads near the Punjab Rangers office and the Chief Minister's residence.

Law minister highlighted also that a suicide attack had been foiled at Punjab CM residence owing to closures. "The suicide bomber that blew outside the Arfa Karim Tower would have attacked the CM residence 180-H Model Town if roads were not closed. However, as the CJP was not convinced from the viewpoint of the Punjab Chief Secretary so the Punjab government has decided to remove hurdles well before the court deadline."

SC summons Shehbaz Sharif in clean water case

Punjab CM appeared before the SC registry on Sunday for the hearing of a suo motu case on the supply of unclean water to Punjab's provincial capital and the dumping of polluted water into River Ravi. During the court proceedings, the chief minister informed court of projects for public welfare to which the CJP inquired about their performances.

CM Shehbaz requested three weeks to present a plan before the court, however the top court handed down three days for the submission.