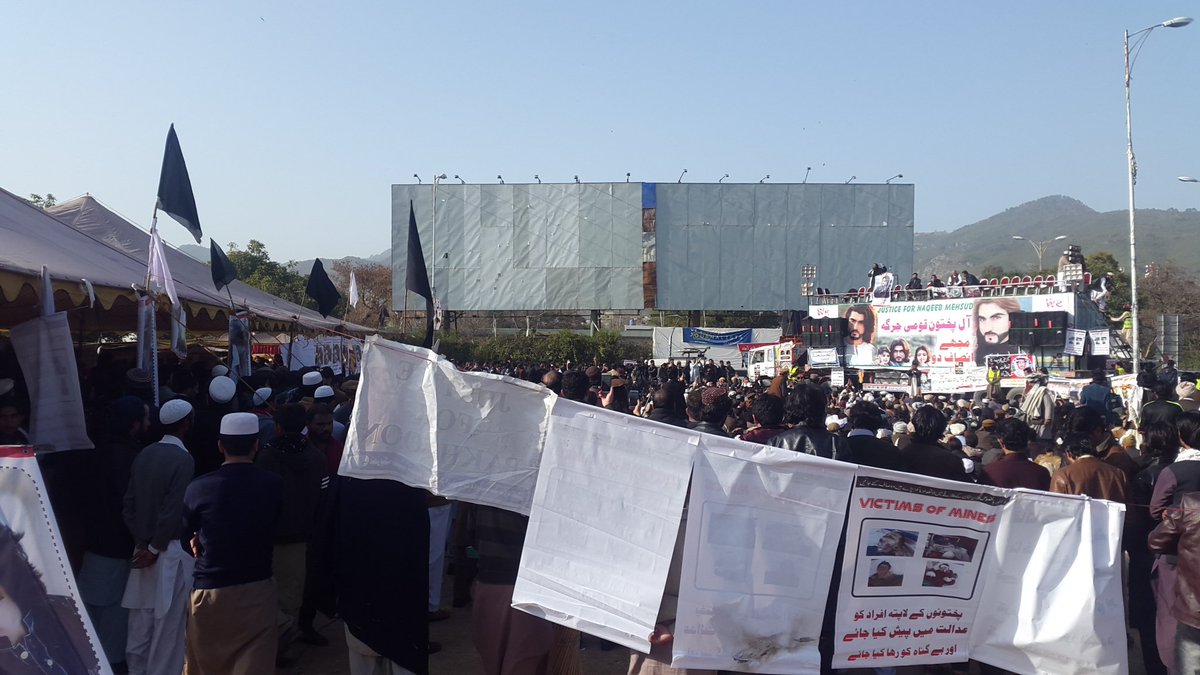 ---
ISLAMABAD: A sit-in by tribal leaders in Islamabad was called off after 10 days on Saturday after the government handed a written assurance that former SSP Rao Anwar, who is wanted in the murder of Naqeebullah Mehsud in a staged encounter in Karachi last month, would soon be apprehended.

The sit-in outside the press club in Islamabad's F-6 neighbourhood had started on February 1. The participants of the sit-in demanded the arrest of fugitive police officer and others responsible for the extrajudicial killing of Naqeeb.

The protesters also demanded a judicial commission for conducting inquiry into all extrajudicial killings and recovery of all missing Pashtuns; clearance of landmines in South and North Waziristan which pose a constant threat to inhabitants; and end to 'oppressive' measures in the two tribal agencies.

Naqeebullah murder case: Four accused backtrack on their confessional statement

Though the government representatives showed solidarity and sympathy with the protesters from day one as Prime Minister Shahid Khaqan Abbasi met tribal elders on February 6 and assured them of addressing all their concerns, the protesters stayed put in the capital.

A group of elders had announced calling off their sit-in after meeting the PM, but a majority of them refused to leave on just mere promises. They demanded something concrete or assurance in written by the government.

Adviser to Prime Minister on Political Affairs Amir Muqam visited the sit-in site on Saturday and delivered the 'written assurance' by the government, accepting almost all of their demands.

The letter, issued on an official letterhead and signed by Muqam, said the PM had announced acceptance of the protesters' demands in the Feb 6 meeting.

Pashtun protesters hold out for 'concrete' assurances

"Naqeebullah Mehsud was the son of the whole nation. It is our duty to apprehend accused Rao Anwar as early as possible and bring him to justice," said Muqam while reading the letter.

Work to clear landmines in Waziristan would be expedited and victims of landmine blasts would be compensated, he added.

He said the PM had announced a college to be built in Naqeebullah's hometown, and named after him. "The prime minister also said that genuine grievances raised by jirga members from different quarters will also be addressed as soon as possible," said Muqam.

After Muqam's address, the organisers formally announced end to their 10-day-long sit-in.

Sources said there were also some backdoor talks with the sit-in organisers which led to the amicable conclusion of the protest camp.

Mehmood Khan Mehsud, one of the organisers, said they had given the government a month's ultimatum for fulfilling all its promises. He said a couple of missing persons had reached their homes since the start of the sit-in. "We are preparing lists of the remaining missing persons to share with the authorities," he added.
COMMENTS
Comments are moderated and generally will be posted if they are on-topic and not abusive.
For more information, please see our Comments FAQ