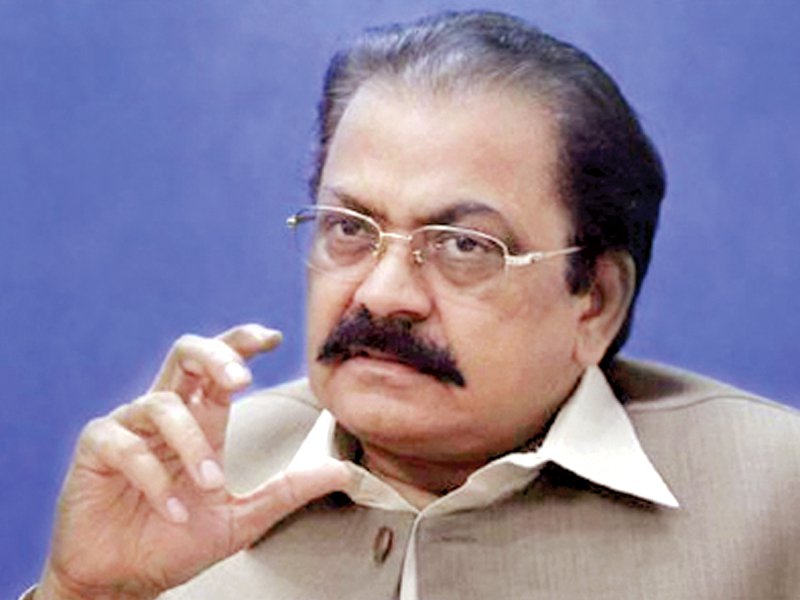 ---
LAHORE: Punjab Law Minister Rana Sanaullah has said that the National Accountability Bureau (NAB) is a state institution and it should not communicate through press releases or press conferences.

Sanaullah said this on Saturday while condemning a recent statement from NAB Chairman Justice (retd) Javaid Iqbal in which he alleged that the government was not cooperating with a NAB inquiry team.

He also criticised NAB for "looking the other way" in case of the NICL scandal, EOBI scandal and the billion-tree tsunami drive in Khyber-Pakhtunkhwa.

Al Azizia case: Nawaz Sharif fails to appear before NAB

Addressing a news conference, he said when summoned by NAB late last year in a case concerning the Punjab Land Development Company, Punjab Chief Minister Shehbaz Sharif had presented himself before NAB instead of replying in writing.

He said the CM appeared before NAB to show his respect for a state institution and resolve for the accountability process. He added that Shehbaz had given categorical instructions to the entire provincial government to cooperate with NAB.

The minister said if the NAB chairman had called the Punjab chief minister or anybody else from the provincial government and informed them that certain officers were not cooperating, they themselves would have gone there and taken the concerned officers to task.

"Punjab government is utterly disappointed with the statement from the NAB chairman," he said, adding that the statement was used by PML-N rivals for their benefit. He said such statements which could politically damage the government should be avoided.

He also urged the NAB chairman to take notice of the political figures who were using his statements against the PML-N. He claimed that the NAB chairman was misinformed by his subordinates.

NAB to probe Pakistanis' Dubai investment

Sanaullah also criticised NAB for 'demeaning' Punjab government officers, saying: "Our officers, who went to NAB to submit the record of public sector companies, were made to sit the entire day for no obvious reasons."

While giving details about public-sector companies in the NAB inquiry case, he said there were a total of 53 public-sector companies in Punjab, out of which 15 were inactive whereas two had been closed down.

The provincial law minister said that on November 2017, the Punjab government was asked to submit the record of public-sector companies. He said that by January 30, 2018, the record of 47 companies had been provided to the anti-corruption watchdog.

He said that with two companies closed, the entire argument of non-cooperation was built around the record of the remaining four companies. He said that a complete record of those four companies could not be provided to NAB. He added that corruption cases of those four companies were under way.

Sanaullah also claimed that corruption in those companies was unearthed by the anti-corruption establishment in Punjab, under the anti-corruption mechanism functional in the province. He said that transferring those cases to NAB would only benefit the accused.
COMMENTS (1)
Comments are moderated and generally will be posted if they are on-topic and not abusive.
For more information, please see our Comments FAQ