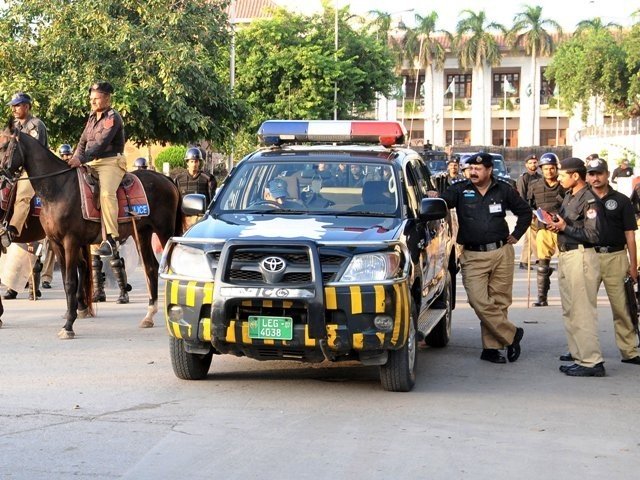 ---
LAHORE: On July 12, 2010, Allah Rakha's son Shahbaz, 24, died before his eyes, shot dead by police. According to Allah Rakha, his son was unarmed and the police shot him in cold blood while the police claimed they were chasing criminal suspects and fired after Shahbaz shot at them.

Several public surveys show that police are one of the most widely feared, complained against, and least trusted government institutions in Pakistan. It is widely believed that police lack a clear system of accountability and are plagued by corruption at the highest level.

Shahbaz Butt, a suspected robber was killed in an alleged staged encounter in Nishter Colony in Nishter Colony in 2011. Owner of the store in his statement had said he was an eye-witness that the suspect was handed over to police when his botched robbery attempt failed. In January, 2015, a teenager, alleged of killing a minor boy in Green Town, was killed when he "tried to flee" while being escorted to an anti-terrorism court, according to police account. CCPO Amin Wains had presented the same boy in a press conference few days back.

In December 2016, three suspected robbers involved in a robbery in Millat Park area were killed, just few days after CCPO Amin Wains had presented the same accused before media during a press conference at Qila Gujjar Singh Police Lines.

444 people killed in encounters under Rao Anwar, claims report

In July 2017, two suspected robbers identified as Attique and Nasir were killed in an encounter in Defence area. Reportedly, the suspects were in police custody before being killed.

In yet another incident, four members of Lashkar-e-Jhangvi (LeJ) including founding member Haroon Bhatti, were killed in an encounter in Badami Bagh in November 2015. The accused were brought back from Dubai with the help of Interpol just few days back.

The level of access to information can be gauged from the fact that an application filed under Punjab Transparency and Right to Information Act 2013 (RTI Act) is still pending before the Public Information Commissioner since 2016, while according to RTI Act, the required information must be shared within 14 working days. The applicant had few questions on the total number of police encounters from January 1, 2006 to October 31, 2016 in Lahore and the number of criminals (history-sheeters) killed or injured in those encounters is still pending before the Public Information Commissioner since 2016. Interestingly, the slot for information commissioner is lying vacant for the last 10 months at the Punjab Information Commission.

The facts disclosed by an absconder former inspector of Lahore Police Abid Boxer, who was arrested from Dubai, also reveal a lot about fake encounters. The former cop was allegedly involved in many encounters, murders, kidnapping and land grabbing cases. Boxer, in a TV interview few years back, had alleged that the Punjab chief minister was the mastermind of all the police encounters and nothing could have been done without his consent. He had said that he (Boxer) had refused to kill five people in Sabzazar which was later to be pretended as an encounter. A senior police officer had told him that the CM wanted to see those people dead in encounter. On his refusal, former SP CIA Umer Virk had conducted this encounter. This was a fake encounter and he was a witness to it, he revealed.

Imran demands inquiry into fake encounters

Chief Minister Shehbaz Sharif was booked in the Sabzazar encounter and was declared an absconder in the case. However, he was acquitted in the case in 2008 reportedly after reconciliation with the aggrieved family.

Saroop Ijaz, a human right activist and co-author of report by Human Rights Watch on police in Pakistan "This Crooked System: Police Abuse and Reform in Pakistan" said police encounters were a long standing issue. "Unfortunately, our government authorities treated encounters as an administrative tool instead of a crime. Extra-judicial killings should be treated as murders for enough deterrence," he added. He referred to the reported arrest of Abid Boxer from Dubai and said that if era of 90s was analysed, extra-judicial killings were introduced as a policy by the government.

Advocate Asad Jamal, the author of Revisiting Police Laws, believed that there was no internal or external mechanism of accountability of police. There was no such system in Police Act. "Police Order 2002 envisaged during Musharraf regime had suggested establishment of Public Police Safety Commissions and Police Complaints Authority at different levels but these were not established at all," he added. He said such steps had their own dynamics and diluted powers. "Politics in Pakistan is focused on concentration of power and such steps are not feasible in such political culture. Police also did not want its accountability," he remarked. He said the mechanism of internal accountability of police was not effective and there was no process of accountability of senior police officers.

"In a society where rate of crime detection and conviction are low, extra judicial killings became a norm and to project performance."

"Moreover, police are rarely held accountable for encounters and families of victims refrain from filing complaints against police out of fear of harassment or being accused of false charges," he said.

"Fake encounters are also used to settle personal enmities, extort money and also on whims of political figures," Jamal explained. According to law, a magistrate was bound to investigate any unnatural death but they were not doing their job. He suggested establishment of Police Ombudsperson and Police Complaints Authority for deterrence of such cases.

Commenting on the saga of encounters, former additional IG Sarmard Saed Khan said unfortunately police encounters have turned into a negative expression but it was not the case. "An encounter means any gun-battle between police and criminals. A police encounter can be genuine or fake. In genuine encounter, a confrontation between police and criminals occur. While, in fake encounter a suspect who was in police custody get killed. Public perception that only such encounter in which police officers were injured or killed are genuine is also wrong," he said.

He said police encounters had the backing of the government and senior police officers. But, it too was not true in all the cases, he asserted. There were few specific police officers like Abid Boxer who performed this "task". "They initially do it as a goodwill gesture fearing the accused cannot be punished by the court like encounter of Malik Ishaq or Riaz Basra. Later, they start killing low-profile criminals to project their performance. Corruption has also penetrated in the process, he remarked. "The encounter specialists start taking money from the opponents of an accused. At another stage, they may take money from both parties; accused as well his opponents."

Sarmad said there was no justification neither legal nor in Shariah. "This is happing due to the failure of the system," he added. He ruled out that the killing in encounters were also done for to settle personal scores on whims of political personalities. He said the cases in which innocents were killed were very low. In an overwhelming majority of the cases, criminals only were killed, he added.

Efforts were made to contact CCPO Amin Wains for his comments but he did not respond.

Published in The Express Tribune, February 10th, 2018.