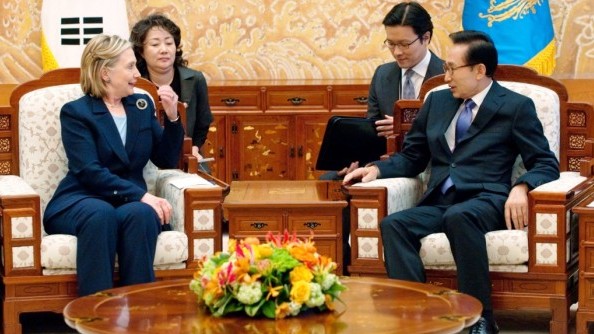 ---
SEOUL: US Secretary of State Hillary Clinton warned North Korea on Wednesday to halt its "provocations and policy of threats" and said the world must respond to its sinking of a South Korean warship.

Clinton, who visited Seoul to show solidarity amid rising inter-Korean tensions, also said the United States was reviewing additional options to hold the North accountable. The confrontation began when a multinational investigation concluded last week that a North Korean submarine had torpedoed one of Seoul's corvettes on March 26 with the loss of 46 lives.

The South on Monday announced a package of reprisals, including a halt to most trade with its neighbour. It is also mounting a diplomatic drive to punish the North through the United Nations Security Council.

The North, which denies involvement, announced late on Tuesday it was cutting all ties with the South. Clinton at a press conference with Foreign Minister Yu Myung-Hwan, said the US had a "rock-solid commitment" to the security of its decades-old ally South Korea.

The Secretary of State, who earlier met President Lee Myung-Bak, praised his "strong and dignified speech" Monday in which he announced reprisals. The sinking requires a "strong but measured response", she said. "We cannot turn a blind eye to belligerence and provocation," she said. "We will stand with you in this difficult hour and will stand with you always."

Clinton backed moves to take the attack to the Security Council, saying the international community has "a responsibility and duty to respond". She said Washington, which stations 28,500 troops in the South, would consider enhancing its defence posture to deter future attacks.

"The United States is also reviewing additional options and authorities to hold North Korea and its leaders accountable," she said without elaborating. "We call on North Korea to halt its provocations and its policy of threats and belligerence towards its neighbours." Clinton arrived in Seoul from two days of talks in Beijing, at which she pressed China to take a tougher line with its ally the North.

Unlike numerous other nations, China has not condemned the North but merely urged restraint on all parties. As a veto-wielding security council member, it would have to approve any new sanctions on Pyongyang or at least abstain.

"I believe the Chinese will understand the seriousness of the issue and be willing to listen to the concerns expressed by both South Korea and the United States," Clinton said. "We expect to be working with China as we move forward in fashioning a response to this provocation by North Korea."

Asked how the US and South Korea can persuade China to accept the investigation result, Yu said 24 foreign experts had joined the probe. "When we are taking this to the Security Council, the most important thing is the facts. I believe we should let the facts lead everything," Yu said.

"It may take some time but I believe China and Russia will not be able to deny the facts." Apart from the current crisis, Clinton also spoke of a "longer-term challenge of changing the direction for North Korea", achieving denuclearisation and offering its people the chance of a better life. "So we have to work on both of those tracks simultaneously and that's what we're attempting to do."


US Secretary of State Hillary Clinton left South Korea on Wednesday for home, a US embassy spokesman said, after a visit to Seoul aimed at showing solidarity in its confrontation with North Korea.
COMMENTS
Comments are moderated and generally will be posted if they are on-topic and not abusive.
For more information, please see our Comments FAQ