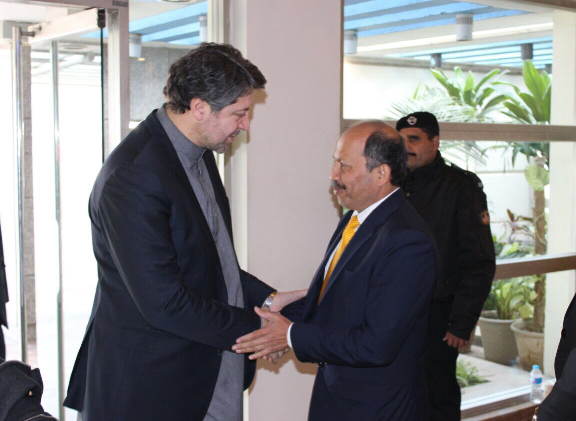 ---
ISLAMABAD: Senior diplomats, military and intelligence officials from Pakistan and Afghanistan on Friday held lengthy talks to end mistrust and find a common ground on the Afghan endgame.

The negotiations held at the Foreign Office were part of ongoing efforts by the two estranged neighbours to arrest further slide in their already strained ties.

Relations between the two countries have been tense since a string of attacks rocked the Afghan capital recently.


Afghan delegation led by Deputy Foreign Minister Hekmat Khalil Karzai arrives in Islamabad to hold 2nd round of discussion on APAPPS pic.twitter.com/Z3JL7DHl1Y

— Spokesperson 🇵🇰 MoFA (@ForeignOfficePk) February 9, 2018



Afghanistan said it handed Pakistan 'undeniable evidence', showing that terrorist attacks were planned across the border.


Friday's negotiations took place behind closed doors, with both the sides said little about the outcome of parleys.

The meeting would continue on Saturday, according to officials, who hoped that the two countries would evolve a consensus on some of the issues.

The talks were a follow up of recent discussions held in Kabul where the two sides reported some progress but said more work needed to be done for the increased cooperation between the two countries.

The meeting -- under the banner of 'Afghanistan-Pakistan Action Plan for Peace and Solidarity' -- from the Afghan side was led by its Deputy Foreign Minister Hekmat Khalil Karazi while Foreign Secretary Tehmina Janjua headed the Pakistani team.

Ahead of the talks, Foreign Office Spokesperson Dr Muhammad Faisal told reporters that the agenda includes "a joint action plan for cooperation in the areas of counterterrorism and reduction of violence, peace and reconciliation, refugees repatriation and joint economic development".

Instead of blame game Pak-Afghan should engage in concrete cooperation: Tehmina Janjua

The bone of contention between the two countries is the alleged support Pakistan extends to certain insurgents -- including the Haqqani network.

Pakistan has always denied the charges and insisted that there were no organised presence of any militant outfits on its soil.

To substantiate its claims that it was not discriminating against any group, Pakistan recently revealed that it handed more than 2 dozen suspects belonging to the Afghan Taliban and Haqqani network over to Afghanistan in November last year.

The Afghan ambassador, however, said he was not aware of any such handover, adding though it would be a huge step forward if this indeed happened.

While Afghanistan often complaint Pakistan for lack of action against certain groups, Islamabad has its own list of grievances against both Kabul and Washington for turning a blind eye towards safe havens of the outlawed TTP and its affiliated groups.

Pakistan on its part not only has carried out relentless military operations in the tribal areas but also decided to strengthen its border controls.

The fencing along 2,611km-long and porous Pak Afghan border has been initiated with an estimated total cost of over Rs56 billion.

"So far, fencing of 160kms has been completed in segments in Bajaur, Mohmand, Khyber, NWA and SWA," said a senior military official while requesting anonymity.

"This fence will be suitably incorporated with technical surveillance means and border forts/posts," the official added.

Apart from fencing, Pakistan is also working on a new mechanism to regulate the movement of people through several crossing points.

There are 16 notified routes exist along the Pak-Afghan border while unofficial and unfrequented routes are in the hundreds.

"As of now, two notified border crossings (Torkham and Chaman) have been equipped with the biometric identification system. Both the crossings are also planned to be developed by the ADB as per international practices," the military official said.

Two other notified crossing (Ghulam Khan and Karlachi) are being developed. The rest will be developed in due course of time.