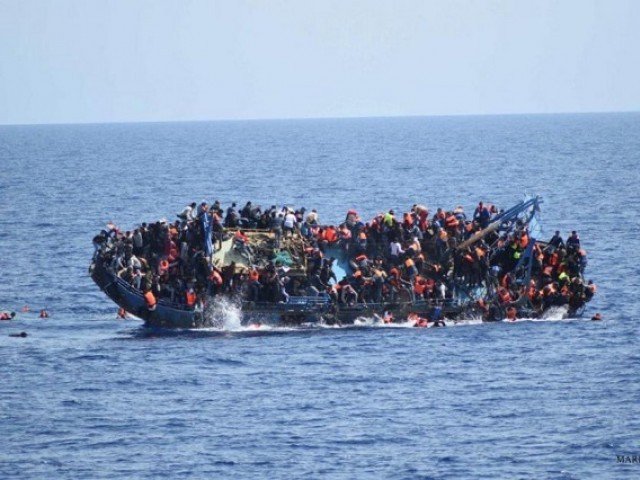 ---
The Foreign Office (FO) has clarified that 32 Pakistani nationals boarded the migrant boat which capsized in the Mediterranean Sea off the Libyan coast on January 31st, 2018.

"32 Pakistanis boarded the boat as per unconfirmed report of the eyewitness. Any figure circulating in the media except this is mere speculation," the FO spokesperson said in his weekly press conference.

According to the press release, 11 bodies have been recovered and identified so far, and their relatives in Pakistan have been informed.

90 migrants, mostly Pakistanis, believed dead in shipwreck off Libya

"There are two bodies that have been found but their identity as of yet has not been confirmed," the release quotes the FO spokesperson as saying.

The 11 recovered and identified bodies will be dispatched to Pakistan, depending upon flight availability, most likely within the next three days.

The foreign office also briefed the media regarding the recovery of identification documents, which belongs to five Pakistanis.

One of those is of Rehmat Khan s/o Muhammad Inayat bearing CNIC 34202-2896695-9, and passport VG4106952, who is reportedly still alive.

The bodies or whereabouts (if alive) of the remaining four Pakistanis are unknown, the FO states.

UN pushing sharp increase in migrant returns from Libya

A boat carrying the migrants had capsized off the coast of Zuwara in the early hours of January 31st, International Organization for Migration spokesperson Olivia Headon had told reporters in Geneva by phone from Tunis.

"At least 90 migrants are reported to have drowned, when a boat capsized off the coast of Libya this morning", the agency had added in a statement.

FO also briefed the media about the efforts of the Pakistani mission in Libya, which was monitoring the situation closely.

"Two officials of the mission have been permanently deputed at Zawara where the dead bodies and documents were washed ashore. The Ministry has also deputed an extra officer from the Pakistani Embassy in Egypt to help in the identification and repatriation process."

"An Emergency Libya Cell has been established in the ministry to oversee and coordinate the identification and repatriation efforts," the press release added.

The FO also said that the necessary funds have already been transferred to the mission to keep the dead bodies in cold storage and also for their repatriation.




COMMENTS
Comments are moderated and generally will be posted if they are on-topic and not abusive.
For more information, please see our Comments FAQ