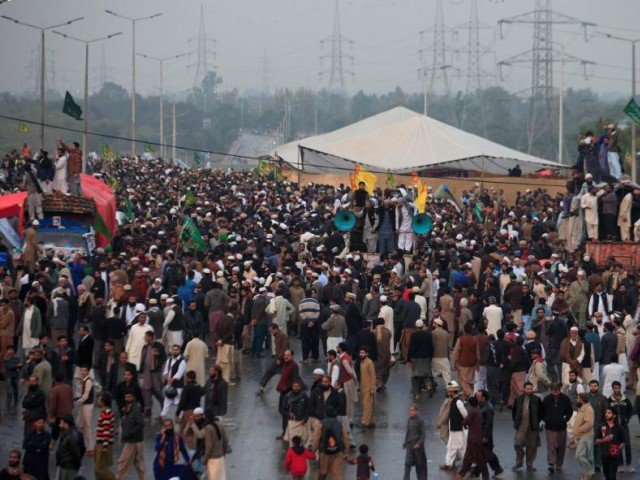 ---
Expressing annoyance over the non-submission of Raja Zafarul Haq Committee Report in the hearing of Faizabad sit-in case, the Islamabad High Court (IHC) summoned defense and interior sectaries, threatening to slap contempt of court charges on them, Express News reported.

IHC Justice Shaukat Aziz Siddiqui was hearing a case on Friday pertaining to last year's sit-in at Faizabad Interchange in the capital triggered by a 'change' in the oath of lawmakers.

"Despite their differences, the government and defense seem to be on the same page when it comes to not submitting the report," he remarked. "The concerned officials will be charged with contempt of court if they do not submit the report."

Faizabad crackdown handed over to Rangers

"We will not let this issue get suppressed," he stressed.

Deputy Attorney General Arshad Kiyani informed court that the report could not be submitted as it was missing signature of a member.

Justice Siddiqui said the judiciary was ridiculed; the chief justice of Pakistan abused by the protesters led by TLY chief Khadim Hussain Rizvi yet an agreement was signed.

He also directed defense sectary to explain in his report why the name of army chief was used for the settlement.

When the court inquired about the report on audio recording from the sit-in which went viral on social media, Director-General Intelligence Bureau (DG IB) Aftab Sultan claimed his department lacked relevant technology to identify the voice in it. Justice Siddiqui asked whether any institution in the country had the resources to which DG IB replied that he was unaware if they were.

The court reprimanded DG IB for incompetence in investigating the recording. "What kind of intelligence chief are you if you are unaware of something so publicly known?" he remarked. "How would you examine voice of a terrorist if such a situation emerges?"

Faizabad sit-in: IHC seeks Zafarul Haq report over religious clause

The National Assembly had passed an amendment to the Election Act, 2017, which was aimed at changing the eligibility criteria for a political party head, but it ended up touching the subject of the Finality of Prophethood or Khatm-e-Nabuwwat.

That triggered a protest by the Tehreek-e-Labbaik Pakistan (TLP), featuring a 21-day-long sit-in at Faizabad Interchange. The protesters forced the government to accept their demands after a government operation to break up the sit-in went awry and the protests spread to several parts the country.
COMMENTS
Comments are moderated and generally will be posted if they are on-topic and not abusive.
For more information, please see our Comments FAQ