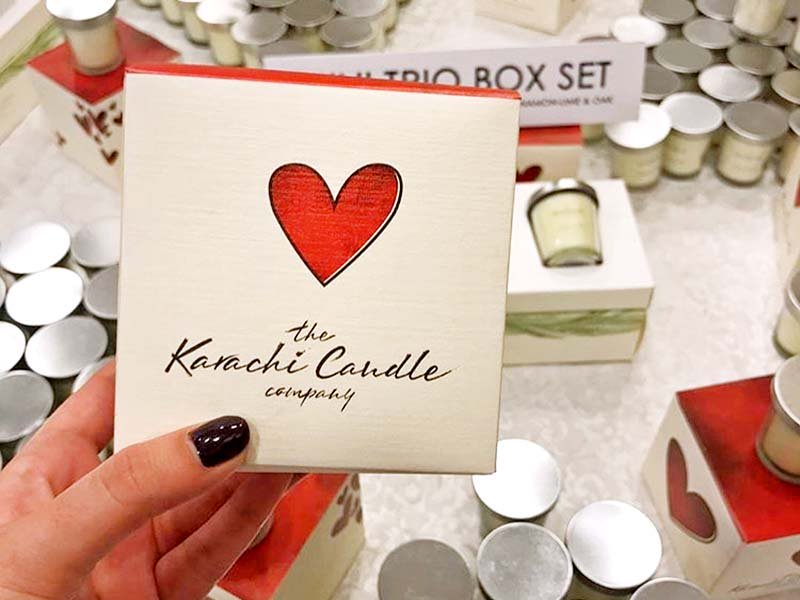 ---
We bring to you a round-up of all that's trending in your city!
Fire Paan at Panwaari


While chewing paan is not a good habit, eating it once in a blue moon is justified. We got our hands on the hottest street snack, the fire paan, and were pleasantly surprised. The regular paan is set on fire before being put in your mouth. So head over to Panwaari and try it out for yourself.

Pistachio Pink's Valentine's Loaf




I loaf you, do you? This perfectly packaged loaf by Pistachio Pink is totes adorbs. We love the beautifully packaged loaf and can't wait to get our hands on it. Pick it up before Valentine's Day to serve with breakfast or make a delectable sandwich for lunch. To order, call 03154005171 or visit Facebook.com/Thepinkpistachio/

Karachi Candle Company's Valentine's Day edition candles




The Karachi Candle Company has something special in store for us this Valentine's Day. Our favourite scented candles have been packaged beautifully in limited edition boxes especially for Valentine's Day. So if you're running short on ideas of what to get for your loved one or friend, head to Ensemble and pick up a scented candle which makes for the perfect gift.

Festival of Life by Shaukat Khanum




The Friends of Shaukat Khanum proudly announce the fifth edition of the Festival of Life in collaboration with Pakistan's leading fashion and entertainment fraternity. An all-day carnival for families, the Festival of Life will be held at the Shaukat Khanum Memorial Cancer Hospital in Lahore on February 18 from 12-5pm. The event has been organised to help raise awareness and funds for the project. Don't miss out!

Pop Nosh




There's a new snack in town and if you're a foodie you need to put it to the test. Not only is the popcorn by Pop Nosh tasty, but each kernel is fresh, crispy and wrapped in delicious caramel syrup. The mouthwatering snack is prepared to perfection and is just a call away. The gourmet popcorn is perfect for adding a bit of fun to your movie nights at home. Call 03227676674 to place your orders!
COMMENTS
Comments are moderated and generally will be posted if they are on-topic and not abusive.
For more information, please see our Comments FAQ