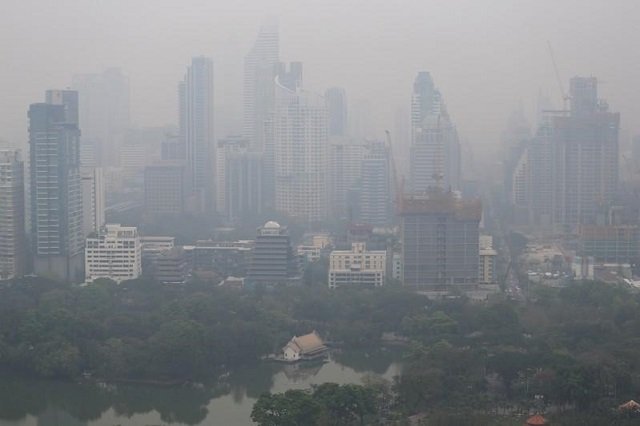 ---
BANGKOK: Residents in Bangkok, one of the world's top tourist destinations, were warned on Thursday the city's air quality had hit dangerous levels just days after the country's pollution control agency appealed to residents to wear face masks. Air pollution in the Thai capital has come under increasing scrutiny in recent weeks with residents complaining of smog and respiratory problems. Some schools were closed on Thursday or kept children indoors.

Air Quality Index (AQI) formulas usually include up to six main pollutants including PM2.5, PM10, carbon monoxide, sulfur dioxide, nitrogen dioxide and ground level ozone.

Some 20,000 premature deaths linked to air pollution

The Pollution Control Department reported PM2.5 dust in the Bangkok Metropolitan at midday on Thursday and at midday it was measured at 72-95 micrograms per m3, with the likelihood that it would increase.

That compares with a World Health Organisation (WHO) guideline of an annual average of no more than 10 micrograms. PM 2.5 is a mixture of liquid droplets and solid particles that can include dust, dirt, soot and smoke.

"We've warned at-risk groups including sick people ... the elderly and children. We've warned that they must not conduct activities outdoors," Suwanna Tiansuwan, deputy director general of the Pollution Control Department, said.

Tiansuwan said the lack of wind in recent days had allowed pollution to accumulate in the air.

The department reported the Air Quality Index (AQI) in central Bangkok area had reached an unhealthy level of 135 AQI by early afternoon.

The Air4Thai mobile phone application, which shows Pollution Control Department readings, does not factor in PM 2.5 or fine particulate matter that pose the greatest risk to human health.

Environment pollution: People call upon government to shift factories from residential areas

Data from the American AirVisual smartphone application showed a 154 AQI reading for Bangkok.

"We've received information from my daughter's school that they are monitoring pollution levels and will be keeping the children indoors until it improves," Joanna Lorgrailers, 32, a mother of two who lives in Bangkok, told Reuters.

Some international schools in the city have installed their own air pollution measuring devices, said parents, and are in touch with other international schools in cities with high air pollution levels to discuss ways to limit childrens' exposure.

Suwanna said her department was preparing to provide PM 2.5 or fine particulate matter measurements on its mobile application.