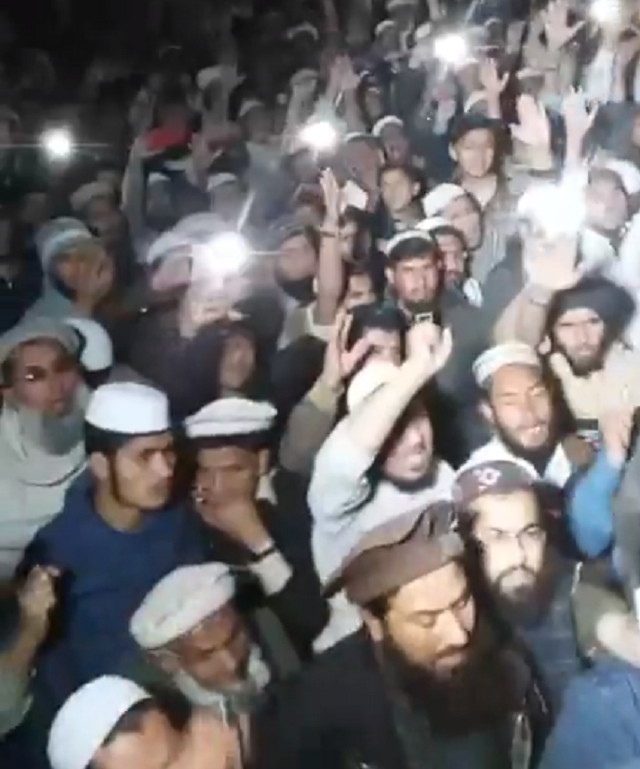 ---
SHABQADAR: [fbvideo link="https://www.facebook.com/CharsaddaJournalist/videos/584000728612320/"]

Political workers of two religious parties in Mardan, Jamiat Ulema-e-Islam-Fazl (JUI-F) and Jamaat-e-Islami (JI), have welcomed the release of 26 people acquitted in the Mashal Khan lynching case, terming them 'heroes'.

Led by JUI-F provincial leader and former Member of National Assembly (MNA) Shujaul Mulk and JI leader Maulana Attaur Rehman, the workers gathered at Mardan Motorway on Wednesday to welcome the acquitted, who were released from Haripur jail.

One of the released, namely Izaz Khan, also issued a threat as he addressed workers from atop a stage, showing no remorse as he vowed to strictly punish those who commit blasphemy in the future.

Mashal Khan murder case: ATC to announce verdict on Feb 7

Workers of the two parties welcomed the acquitted with chants of Ghazi (warrior of Islam), showering them with flowers, and announcing a rally after Friday prayers in their honor.

The gathering was attended by local Khatm-e-Nabuwat workers, who chanted slogans in favour of those in jail, as well as those released, condemning the deceased Mashal Khan as a blasphemer.

Twitterati hail ATC verdict on Mashal murder case

On April 13, 2017, the country had witnessed the brutal lynching of journalism student Mashal Khan at Abdul Wali Khan University in broad daylight, after he was accused of blasphemy.

Khyber-Pakhtunkhwa government ordered a judicial inquiry into the incident afterwards.

The FIR – registered under section-302, 148, 149, 297, 427 of the Pakistan Penal Code along with section-7 of the Anti-Terrorism Act – said that the tragic event was preceded by a students' protest in which the mob accused Mashal and his two friends – Abdullah and Zubair – of committing blasphemy.

An anti-terrorism court in Abbotabad on Wednesday awarded death sentence to one and 25-year-prison to five others in the Mashal Khan murder case, releasing 26 other suspects.