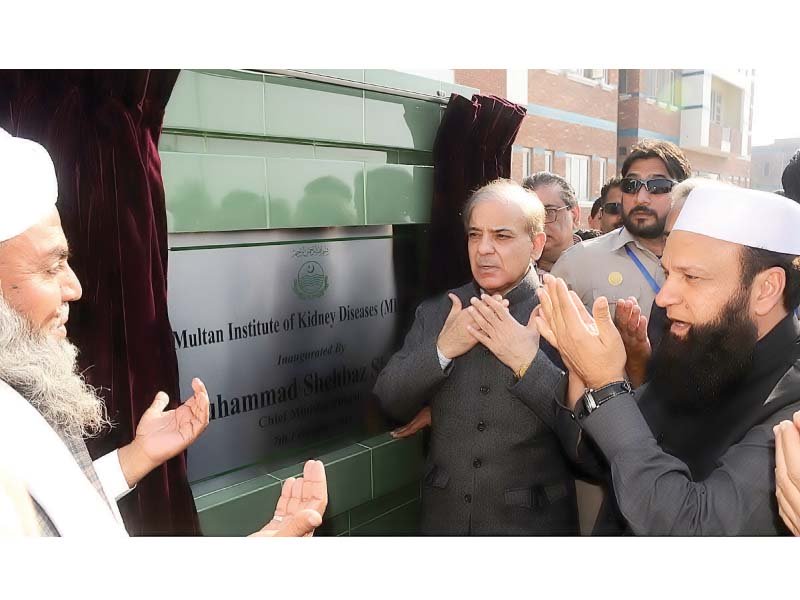 ---
MULTAN: Punjab Chief Minister Muhammad Shehbaz Sharif visited Multan and inaugurated different health projects which were completed at a cost of Rs5.5 billion.

The CM inaugurated Government Shehbaz Sharif District Headquarters Hospital and later moved to the new block of the Children Hospital and Institute of Child Health in which 150 beds were increased. He also inaugurated a state-of-the-art burn unit at Nishtar Hospital and regional blood centre, along with the Multan Institute of Kidney Diseases which is the largest of its kind in the whole of southern Punjab.

Shehbaz also inaugurated a blood testing laboratory, medicine warehouse and cold chain store. After the inauguration of DHQ Hospital, he went to different sections, wards and inquired after the health of patients. He inspected various medical facilities provided to patients.

Speaking on the occasion, the CM said resources worth billions of rupees had been provided for quality healthcare facilities. "I shall not sit idle till the accomplishment of this agenda," he added.

The CM inspected different sections, wards and operation theatres after the inauguration of the Children Hospital Multan. Speaking on the occasion, he said children were like the flowers of homes and it was people's responsibility to take care of their health.

He said that standard of healthcare facilities was being further improved in southern Punjab and no dearth of resources would be tolerated. "The resources have been utilised to serve humanity and the same will be done in future as well."

Talking about power generation projects, Shehbaz stated the PML-N government completed energy projects of thousands of megawatts and these have helped eliminate the darkness in Punjab. He boasted that the government was setting up another 1,250-MW gas-based project in Haveli Bahadur Shah from its own resources.

"Meanwhile, savings of billions of rupees have been made in energy projects. The PML-N government is an example of its own with regard to transparency and I invite all to examine these projects again and again. You will not find any corruption, even of a single penny, in them. On the other hand, we have made a saving of Rs. 100 billion in these projects."

Shehbaz said Pakistan was illuminated today and its trade and agriculture sectors were prospering. "Had the energy projects not been completed, then perhaps, Multan, Punjab and Pakistan would have been held hostage to the darkness of load-shedding. Our forefathers gave sacrifices for a Pakistan where there is justice, resources are judiciously distributed and everybody has equal opportunities to excel. After a time of 70 years, Pakistan is about to emerge as a welfare State according to the dreams of Quaid and Iqbal."

Published in The Express Tribune, February 8th, 2018.
COMMENTS (1)
Comments are moderated and generally will be posted if they are on-topic and not abusive.
For more information, please see our Comments FAQ