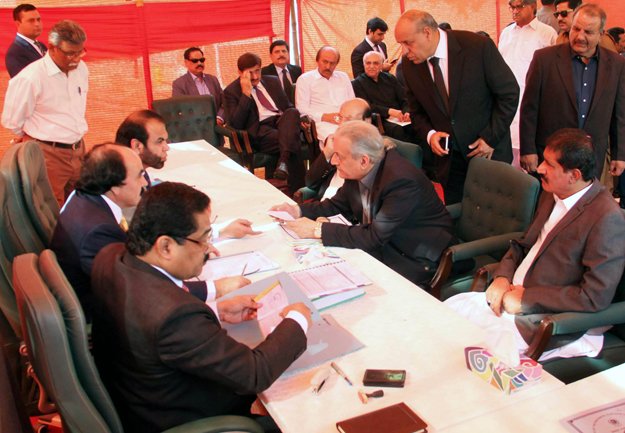 ---
KARACHI: Pakistan Peoples Party (PPP) candidates from Sindh filed on Wednesday nomination papers for the Senate elections at the Election Commission of Pakistan (ECP), Karachi.

Chief Minister Murad Ali Shah and PPP Sindh President Nisar Ahmed Khuhro accompanied the candidates, along with their proposers and seconders, to the ECP.

The PPP has fielded 20 candidates for the elections of 12 Senate seats in the province. The candidates include incumbent Senate Chairperson Mian Raza Rabbani, Kirshna Lal Kolhi, Quratul Ain Marri, Nida Khuhro, Humaira Alwani, Anwar Lal Dean, Anthony Naveed, Dr Sikandar Mandhro, Rukhsana Zubairi, Dr Younis Soomro, Taj Haider, Maula Bux Chandio, Mustafa Nawaz Khokhar, Muhammad Ali Shah Jamote, Imamuddin Shoukeen, Ayaz Maher, Barrister Murtaza Wahab, Dost Ali Jessar, Javed Nayab Leghari and Qasim Soomro.

The CM proposed Chandio's name for the Senate elections while his seconder was provincial minister Mumtaz Jakhrani. Rabbani's candidature was proposed by former chief minister Syed Qaim Ali Shah.

Senate election: ECP notifies schedule for four FATA seats

Speaking to the media after filing of the nomination papers, the CM said that the PPP had maintained its old tradition of awarding tickets to party workers on merit for the Senate elections.

"This shows the commitment of the party's leadership to its workers," he said, adding that the party had awarded Senate tickets even to workers of its minority wing who belonged to the lower middle class, such as Kolhi, who belonged to Tharparkar, and Dean.




The CM also rejected the allegations of Pakistan Tehreek-e-Insaf (PTI) MPA Khurrum Sher Zaman who had claimed that the PPP was trying to buy votes for the Senate elections. The MPAs are respected persons, Murad said, adding that it was a wrong impression that they were being offered deals to purchase their votes.

Zaman should tell the media who gave him the offer to purchase his vote, the CM remarked. He called the PTI MPA's allegation 'political point scoring'. The Senate elections are being held in a democratic way, the CM claimed.

Responding to a query about the Muttahida Qaumi Movement (MQM) - Pakistan, Murad said the party was facing an internal crisis. How will MQM-Pakistan serve the people if its leaders are fighting each other, questioned the CM.

Rift in MQM-P over Senate election tickets



PML-F and PSP field candidates

Meanwhile, Pakistan Muslim League - Functional (PML-F) has fielded former Sindh Assembly speaker Muzaffar Hussain Shah as its candidate for the Senate. Muzaffar's candidature was proposed by PML-F leader Nusrat Sehar Abbasi while it was seconded by Dr Rafiq Bhanbhan. Talking to the media on Wednesday, Muzaffar alleged that MPAs were being offered deals for Senate elections.

Two candidates of the Pak Sarzameen Party (PSP) also filed their nomination papers on Wednesday. One of them, Mubashir Imam, filed nomination papers for the general seats while the other, Dr Mohan Manjani, filed papers for the reserved seats for minorities.