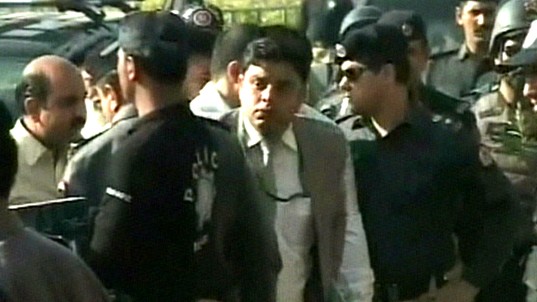 ---
ISLAMABAD: Chief Justice Iftikhar Chaudhry assured a fair trial for the former Bank of Punjab president Hamesh Khan as NAB seeks more time for the inquiry.

Iftikhar Chaudhry said that Hamesh Khan returned to the country out of respect for the law.

Main accused of the Bank of Punjab's Rs9 billion scam, Hamesh  Khan appeared before a three-member bench headed by Chief Justice of Pakistan Iftikhar Chaudhry on Wednesday amid tight security. He was taken directly to the Supreme Court from the Islamabad airport amid tight security.

A special pass was issued to all those allowed to enter the court building, which is surrounded by heavy police deployments.

Earlier, National Accountability Bureau (NAB) court Lahore granted 14 days physical remand to the accused.

The hearing was adjourned until Thursday.