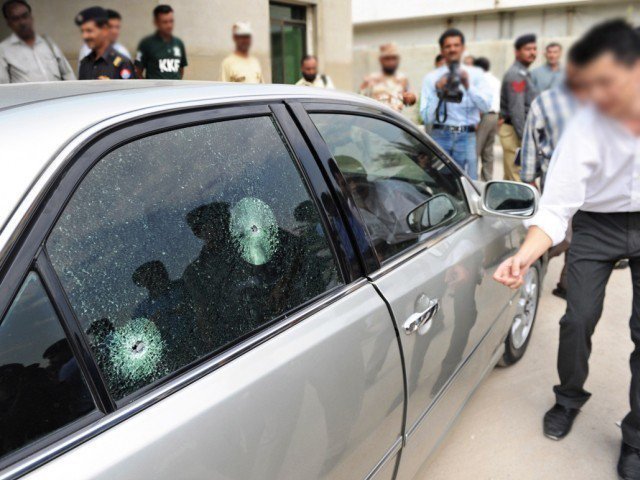 ---
ISLAMABAD: China on Tuesday strongly condemned the apparent targeted killing of its national in Karachi, urging Pakistan to bring the perpetrators to justice at the earliest.

"We strongly condemn the extreme atrocities against Chinese nationals. We will closely monitor the situation as it develops and offer best assistance to the bereaved family," said the Chinese Foreign Ministry spokesperson while addressing a daily briefing in Beijing.

The Chinese Embassy in Pakistan released the transcript of the press briefing in which the spokesperson said the Chinese national died in hospital after sustaining severe injuries from gunshots in Karachi.

"The Chinese Consulate-General in Karachi attaches great importance to this incident. After learning this incident, it immediately sent officials to the crime scene and the hospital, asking the hospital to do its best and the Pakistani police to solve the crime and bring perpetrators to justice at an early date," he said.

Asked whether China was concerned about the safety of its citizens in Pakistan after the incident, the spokesperson said Pakistan government and military had taken a series of efforts to better combat terrorism and make the society safer.

"We support the Pakistani side in moving ahead with the relevant measures to ensure its domestic security and stability. Meanwhile, we hope and believe that the Pakistani side will take further measures to ensure the safety of Chinese institutions and personnel in Pakistan."

The reaction came a day after a Chinese national, working at a non-CPEC related private shipping firm in Karachi, was shot dead in broad daylight in the city's upscale Zamzama neighbourhood on Monday afternoon.The place where the incident took place is about half kilometre away from Clifton Police Station.
COMMENTS (2)
Comments are moderated and generally will be posted if they are on-topic and not abusive.
For more information, please see our Comments FAQ