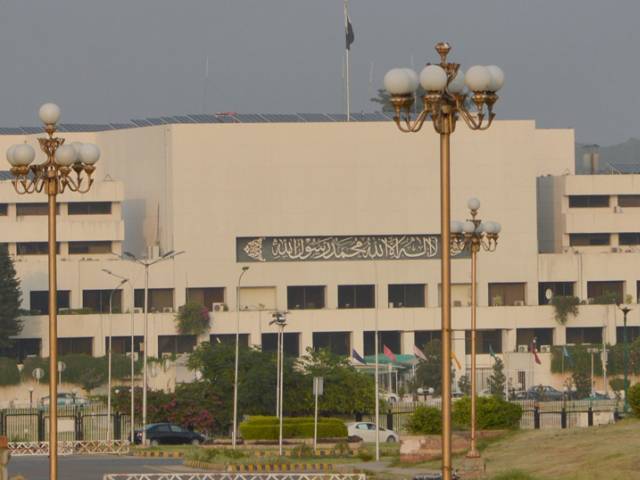 ---
LAHORE: In a rare turn of events, the Pakistan Tehreek-e-Insaf (PTI) and the Pakistan Muslim League-Quaid (PML-Q) have announced they will contest upcoming Senate elections together. Both opposition parties have constituted an eight-member committee to ensure close cooperation for Senate polls.

After a meeting of senior leadership from both the parties on Sunday, PTI Vice Chairman Shah Mahmood Qureshi told media that both of the parties had agreed to back each other in Senate elections. He said a committee, comprising four members from each party, had been constituted to consider candidates for elections.

Qureshi said the committee would comprise PTI's Shafqat Mehmood, Aleem Khan, Mian Mehmoodur Rasheed and Sibtain Khan and PML-Q's Tariq Cheema, Chaudhry Zaheeruddin, Azeem Lakhvi and Raja Basharat.

Underhand deal?: Delimitation bill to sail through Senate after PPP's 'conditional nod'

PML-Q senior leader Chaudhry Pervaiz Elahi said both parties had teamed up to devise a joint strategy for the Senate vote. He claimed that PTI's Chaudhry Muhammad Sarwar and PML-Q's Kamal Ali Agha would emerge victorious in Senate polls.

Meanwhile, PML-Q chief Chaudhry Shujaat Hussain contacted Pakistan Peoples Party (PPP) Co-chairman Asif Ali Zardari over telephone for discussing the upcoming Senate elections and an overall political situation in the country.

The PPP co-chairman extended an invitation to Hussain and Elahi which they accepted.

Democratic transition: Sparring rivals converge behind closed doors

Elahi said the PML-Q had supported the PPP government in the past and chances of an alliance or some sort of partnership between the two parties were bright.

PML-Q's candidate from Punjab for Senate, Kamil Ali Agha, has already submitted his nomination papers to the ECP.

As per the Election Commission of Pakistan (ECP), Senate elections on 46 seats are scheduled to be held on March 3. Originally, the elections were scheduled on 52 seats of the upper house on March 3, but later the ECP notified schedule for 46 seats, excluding six seats from the Federally Administered Tribal Areas and Islamabad Capital Territory, owing to related parliamentary legislation.