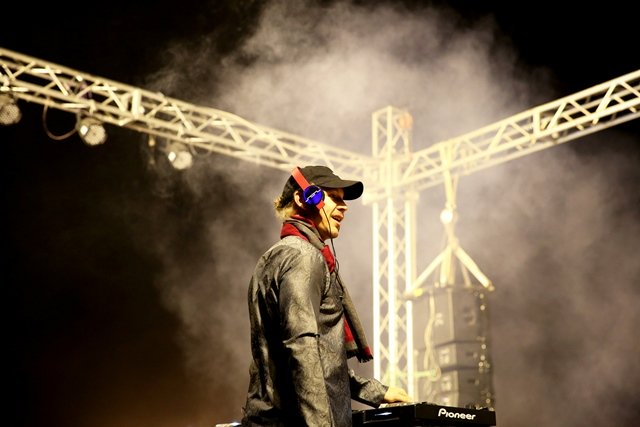 ---
ISLAMABAD: American DJ and record producer Diplo brought his Mad Decent Block Party to Pakistan's capital over the weekend, headlining a roster of musicians including local Pakistani acts.




For two-time Grammy winner Diplo, playing Pakistan is a way to foster good relations with the mostly Muslim country after an angry Jan. 1 tweet from US President Donald Trump complaining that Pakistan gives "terrorists" a safe haven.


The United States has foolishly given Pakistan more than 33 billion dollars in aid over the last 15 years, and they have given us nothing but lies & deceit, thinking of our leaders as fools. They give safe haven to the terrorists we hunt in Afghanistan, with little help. No more!

— Donald J. Trump (@realDonaldTrump) January 1, 2018


"I think the best way we can do any kind of diplomacy with the Pakistani people is ... basically reaching out to the kids like we do at the concerts," Diplo told TMZ last month after the Trump tweet, which soured US-Pakistani relations.

I really want to perform in Pakistan; Trump should back off: Diplo

He added that by having US acts connect with the large youth population - an estimated 60 percent of Pakistanis are under age 30 - "they can grow into being our allies".




More than 2,500 young people crowded into an outdoor venue in the capital, Islamabad, to a scaled down version of the event known for bringing together some of the hottest names in dance-hall, hip hop and electronic music.

Diplo to perform in Pakistan next year

Among the headliners were Diplo's chart-topping side project Major Lazer Soundsystem, DJ Chrome Sparks and Pakistani duo SNKM, which has played the South by Southwest festival and toured with Diplo in the US.




"There's a lot of bridges being built between here and the US" says SNKM's Adil Omar, who also has a successful hip hop career and a new album and film "Transcendence" to be released this year.

For a cause

Apart from bringing music, Major Lazer had announced that it will be doing its bit for social good in Pakistan owing to its growing connection with the country.

As a result, a part of the proceeds from the block party was slated to go to Sahil, a non-profit organisation that works for children's rights.

The trio had in a January tweet stated that the contribution will go in the name of Zainab Ansari, the eight-year-old whose tragic rape and murder case had shaken the country last month.
COMMENTS (1)
Comments are moderated and generally will be posted if they are on-topic and not abusive.
For more information, please see our Comments FAQ