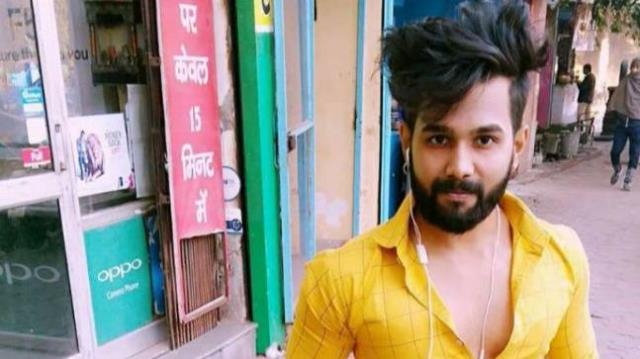 ---
Hundreds crowded the streets to witness a Hindu man being allegedly stabbed and beheaded in public because he had fallen in love with a Muslim girl in India.

The incident took place on Thursday evening, according to the local media. The girl's family members are the main suspects behind the murder of her boyfriend.

Police have arrested the girl's father, mother and uncle in connection with the murder.

The victim known as Ankit Saxena, had a relationship going on with the unidentified 20-year-old women since the last three years and the couple planned to get married soon as well. However, the girl's family stood against the relationship as the man was Hindu.

The day Saxena was killed was the day when the 20-year-old girl planned to discuss their wedding plans but later was informed that her beloved was stabbed to death.

Girl, fiance gunned down for speaking before marriage in Sindh

"I was going to meet him and then someone told me he had been stabbed with a knife. We were going to marry. He called me and told me he wanted to marry me, so we were meeting," she told the media.

The young women, whose identity has not been released, feels that she may possibly be killed as well or harmed by her own family members if she was at home which is why she was sent to a shelter home for protection.

The girl's father and uncle reportedly beat the victim, who was known as a photographer by profession, before stabbing and slitting his throat while the brothers of the girls held his arms and body.

Ankit's mother rushed to save her son, she was attacked and stopped by the girl's mother. "I tried to stop them, but the girl's mother pushed me to the footpath and kicked me on my chest.

Beheaded, bloody doll found in Amsterdam's mosque

"The family accused my son of abducting their daughter. I told them my son was innocent and that they could call the police to find out. I even asked them to search my house. They refused to listen and kept beating my son," said the victim's mother, Kamlesh, who suffered a broken rib in the incident.

All three members of the family are sent to jail after the statement produced in the court, while the girl's brother were sent to a correction home as they were underage.

"During the investigation, we found that they caught and stabbed Ankit in the neck. The woman's family was against their relationship as they belonged to different communities and had warned Ankit against associating with her," senior police officer Vijay Kumar said.

Due to this incident, people strongly reacted on Twitter.


"Ankit Saxena's alleged relationship with woman from the minority community":DCP

Woman's parents, uncle, 16-yr-old brother objected to relationship & confronted Saxena

Police said woman's father slit Saxena's throat with a knife#Delhi#JusticeForAnkithttps://t.co/5OV1YA8Tyv

— Amrita Bhinder 🇮🇳 (@amritabhinder) February 3, 2018
Terrified, sickened, repulsed by the spine-chilling murder of Ankit in the heart of Delhi. https://t.co/D2dqRc3Fek No words can describe how utterly barbaric this is. #JusticeforAnkit

— HindolSengupta (@HindolSengupta) February 2, 2018
Met father and other members of #AnkitSaxena . Family demanded medical help immediately for Ankit's Mother, arranged.
It was Preplanned professional killing on road..#JusticeForAnkit @DelhiPolice has arrested 4 accused and assured filling of chargesheet on fasttrack basis. pic.twitter.com/6cJ7aWdMFy

— Manoj Tiwari 🇮🇳 (@ManojTiwariMP) February 3, 2018


https://twitter.com/ubaidsidique/status/959675811056861184

This article originally appeared on NDTV.