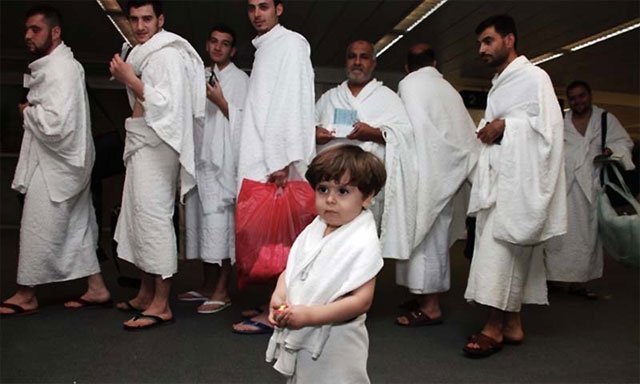 ---
ISLAMABAD: The Ministry of Religious Affairs and Interfaith Harmony has requested the Saudi government to waive off Hajj dues for children under two travelling with their parents through Private Hajj Scheme.

The request was made by Federal Minister for Religious Affairs Sardar Muhammad Yousaf, who nowadays is in Saudi Arabia upon the request of Pakistani tour operators to discuss matters pertaining to Hajj arrangements, said an official who wished not to be named.

Hajj quota for Pakistan stays put

Talking to The Express Tribune, the official said that under the government Hajj scheme, infants were already being charged as per international standards, but private tour operators were charging dues from parents for their infants travelling to Saudi Arabia for performing Hajj.

"The Saudi government has agreed in principle to look into the matter," said the official.

On enhancing Hajj quota for Pakistanis, the official said that the Saudi government had told the Pakistani government that after completion of expansion work at Mina, its request for increasing Hajj quota would be fully entertained.

"It is currently not possible for the Saudi government to increase Hajj quota for any country due to lack of space," said the official.

Meanwhile, sharing details of a high-level meeting held between the religious affairs minister and Moassasah Mutiwwify Hujjaj South Asia, Makkah, Chairman Rafay Ismail Badr on Friday, he said that Badr has said that "there is a need to establish a department at Hajj Mission Office for monitoring private tour operators".

The official further said that the Moassasah South Asia chairman said that last year some of the pilgrims had faced issues regarding travelling, accommodations and food.

Ministry of religious affairs postpones Hajj balloting

However, this year all-out efforts will be made to avoid such issues, he said, adding that in this regard they were thinking to increase the number of Pakistani catering and transportation companies to create a competitive environment.

Badr also said that he is trying to allot 'Mina Makatib' to Pakistani pilgrims for four years which will help in better coordination.

Later, several memoranda of understandings were inked between Pakistan and Saudi Arabia related to Hajj arrangements.