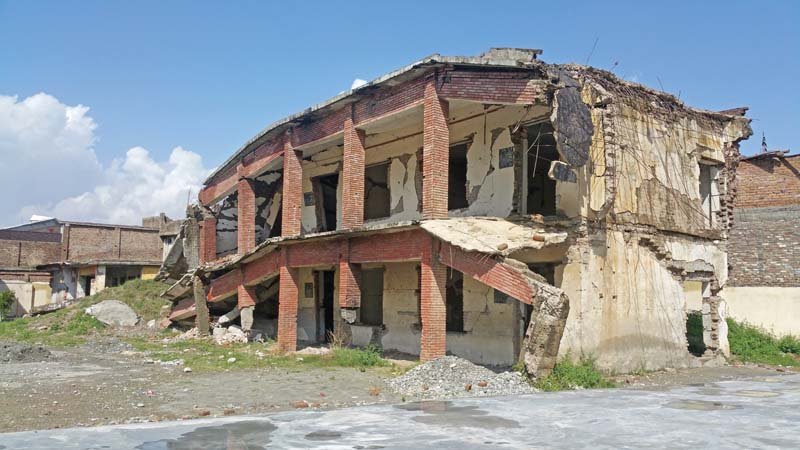 ---
HYDERABAD: As thousands of government schools in Sindh continue to function in dilapidated buildings, four girl students were injured on Friday when bricks from the wall of a classroom fell on them at a primary school in Nao Dambadlo, a rural town in Badin district.

The students, Sonia Manganhar, Samina, Zavia and Somia, aged between eight and 12 years, sustained head injuries. A teacher at the school, Safia, told the local media that around 150 students were enrolled in that makeshift one-room school with a structure made up of bricks and mud walls.

"A similar incident of wall collapse also happened some time ago and two students were injured," the teacher recalled, adding that besides being dilapidated, the school also lacked other facilities including water and electricity.

Dilapidated buildings: PTI urges govt to reconstruct schools

The education officer of the taluka, Mehmooda Khowaja, told the media that the school lacked a building structure. She added that the students were no longer safe in the school and they would be shifted to another school in the proximity.

According to the Sindh Education Profile 2016-17, as many as 6,567 schools in the province were functioning in buildings which had been declared dangerous. Among such schools, 5,998 were primary schools. The buildings of 324 middle schools, 214 secondary schools and 31 higher secondary schools were also in tumbledown state.

The number of schools operating without a building was counted at 4,910 in the profile. As many as 4,810 such schools were primary schools. Another 14,905 schools were being run in one-room structures among which 14,678 were providing primary education.