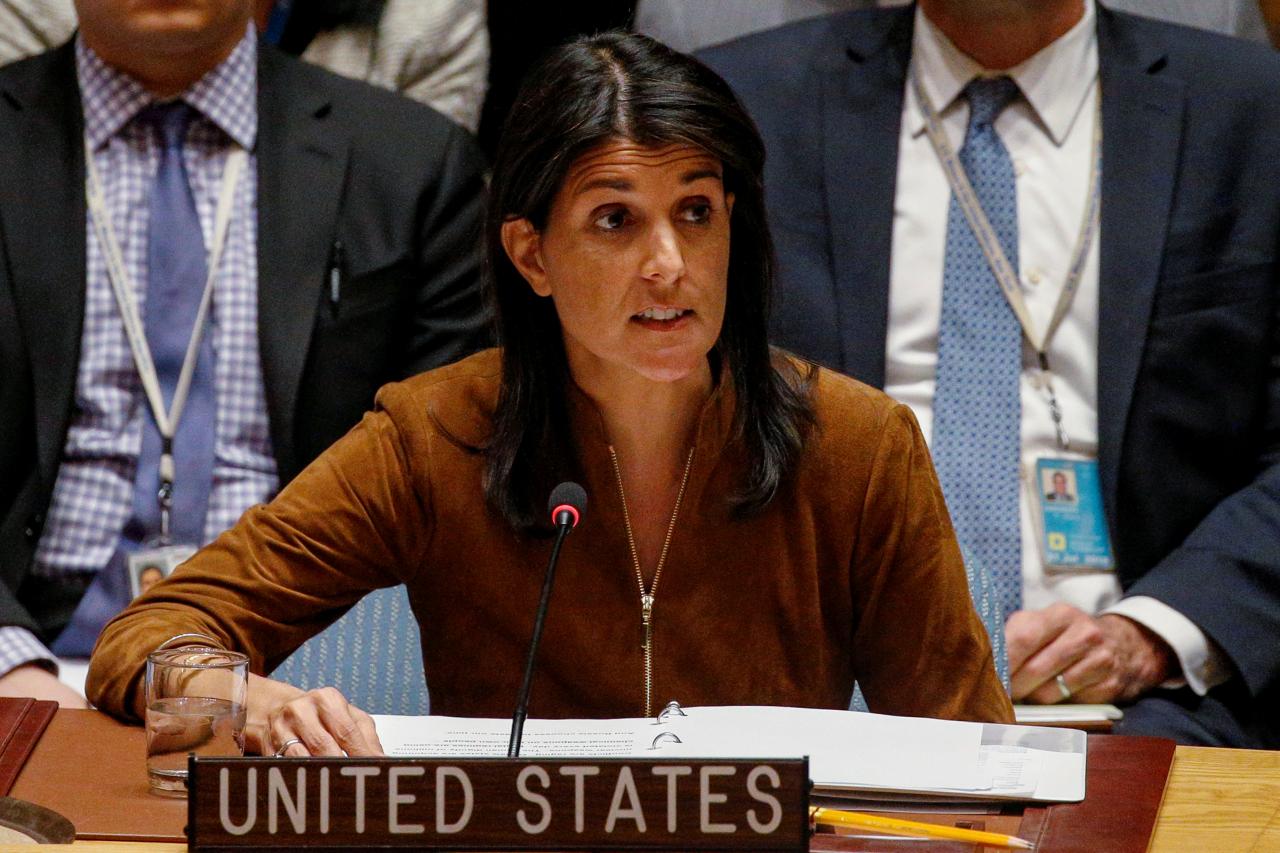 ---
UNITED NATIONS: US Ambassador Nikki Haley on Wednesday slammed a UN report on 206 companies with ties to Israeli settlements as "a waste of time and resources" that showed an "anti-Israeli obsession".
The office of the UN high commissioner for human rights released the report that did not name the companies but could pave the way to a 'blacklist' of businesses that Israeli officials fear would be targeted for an international boycott.

More than 200 companies have Israeli settlement ties: UN

"This whole issue is outside the bounds of the High Commissioner for Human Rights office's mandate and is a waste of time and resources," Haley said in a statement.
The report was in response to a resolution adopted in 2016 by the UN Human Rights Council that called for the creation of database of all companies doing business with the Israeli settlements, which the United Nations considers illegal under international law.
"While we note that they wisely refrained from listing individual companies, the fact that the report was issued at all is yet another reminder of the Council's anti-Israel obsession," said Haley.
"The United States will continue to aggressively push back against the anti-Israel bias, and advance badly needed reforms of the Council," she added.
Of the 206 companies under review, 143 are based in Israel or in the settlements, 22 in the United States, seven in Germany, five in the Netherlands and four in France.
The report had been due to be released last year but was repeatedly delayed. Israel's UN Ambassador Danny Danon strongly condemned the report, calling it a "shameful act, which will serve as a stain on the UNHRC forever".

No talks with US until Jerusalem move reversed: Palestinian official

"We will continue to act with our allies and use all the means at our disposal to stop the publication of this disgraceful blacklist," he vowed.
Israeli settlements are seen as illegal under international law and a major obstacle to peace as they are built on land the Palestinians see as part of their future state.
More than 600,000 Israeli settlers live in the West Bank and annexed east Jerusalem in often confrontational proximity to nearly three million Palestinians.
COMMENTS (1)
Comments are moderated and generally will be posted if they are on-topic and not abusive.
For more information, please see our Comments FAQ