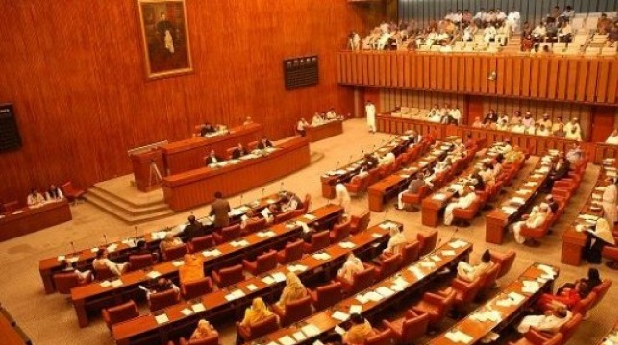 ---
ISLAMABAD: The Senate on Thursday amended its rules of procedure to protect the secrecy of in-camera meetings after several complaints arose following the army chief's briefing at the upper house of parliament last month.

General Qamar Javed Bajwa had, on December 19 last, appeared before the Senate and briefed the members about national security. But immediately afterwards, details of the briefing was all over media as senators came on camera to shed light on the discussion held at the Senate.

The House Business Advisory Committee of the Senate, at a special meeting, decided to add rule 255A to the Rules of Procedure and Conduct of Business in the Senate 2012.

Promoting bureaucrats: Senate panel 'to hammer out new policy'

The rule reads: "Where a member of the House or any person specifically participating in any in-camera proceedings, divulges or discloses any information regarding any part of the proceedings or comments or speeches or opinions expressed therein, such matter shall be required to appear before the House Business Advisory Committee, and after being given an adequate opportunity to explain the disclosure attributed to him, may be suspended for a term not exceeding 30 consecutive sittings of the House."

Senate chairman clarified that amendment was not person-specific as it was not solely driven from the COAS's recent briefing.

He was responding to PML-Q senator Mushahid Hussain Syed who said an amendment to rules after the COAS briefing gives an impression if it was person-specific.

In his concluding remarks, Opposition Leader in the Senate Aitzaz Ahsan said, "The amendment would not compromise the openness and transparency."

The Federal Minister for Ports and Shipping Hasil Bizenjo said that the committee looking into the matter of information leak to media should fix the responsibility as it was not done.

Senators Sehar Kamran and Mir Kabir remarked that the issue of the leaking information to the media was also witnessed when the joint defence committees of the both the houses of the parliament got a briefing from the army's top brass in an in-camera session.