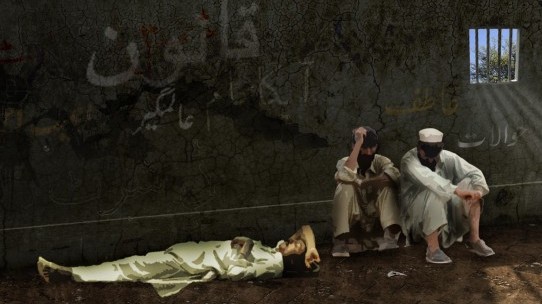 ---
KARACHI: Junaid, (not his real name), wishes he was as lucky as President Asif Ali Zardari who enjoyed all the rights accorded to a prisoner in a public jail.

"It has been three years since I spent Eid with my family," says the young prisoner in Karachi's Youthful Offenders Industrial School who was accused of theft but is yet to be convicted. "I know the law permits first-time offenders to be released on probation or parole, but we're still made to stay here for years." Given the lack of manpower, the right to probation and parole is not extended to all eligible prisoners. According to official statistics, there are only 65 probation officers (including seven female officers) and 17 parole officers, including four women, in the country.

Although prison population across the country has greatly reduced – thirty-five per cent prisoners have been released in Sindh since the introduction of reforms – the method to release prisoners remains rather arbitrary. Reports show that those convicted of petty crimes were released on bail, a method most experts believe is flawed.

Instead, they favour parole and probation. "A rather easy way to resolve the problem of overcrowding in prisons is to invoke the system of probation and parole [which has been part of] the law for several decades now," suggests Justice (retired) Nasir Aslam Zahid, who believes it is useful in case of offenders who are not hardened criminals. Probation is an alternative method for first-time offenders or for those accused of petty crimes.

The court in this case – under the Probation of Offenders Ordinance 1960 – issues a judicial warning and imprisonment is suspended, giving the offender an opportunity to be rehabilitated under the supervision and guidance of a probation officer for one to three years. This officer is then expected to help the offender look for a job and for accommodation. The system of parole, on the other hand, is a bit different. It is a privilege extended to prisoners with a history of good conduct.

They are released with permission from jail authorities and supervised by parole officers. According to research conducted by a local NGO, the Society for the Protection of Rights of Child (SPARC), which has been working on the issue of juvenile justice for several years, over 70 per cent of the prison population consists of offenders whose sentence is no longer than a month to a year. Yet, due to pressure on courts, there cases are delayed and they end up spending years in jail as under-trial prisoners. "A lot of them are people who fight over land and water and are sent to jail. At jail they end up coming in contact with criminals," says SPARC regional manager, Sindh, Iqbal Detho. "This does the prisoner more harm than good," adding that there is a need to improve parole and probation. "Authorities need to realise that it will improve the effectiveness and cost-efficiency of the judicial system and help reduce the burden on courts as well."

Another advantage of probation and parole, according to Assistant Director Probation and Parole, Sindh, Manzoor Mangi, is that "in the case of juveniles they are also able to continue with schooling and are protected from sexual and physical abuse in prison". Section 11 of the Juvenile Justice System Ordinance 2000 particularly highlights the need for probation in the case of young offenders. Moreover, in most cases, male offenders are usually the sole bread winners of the family and imprisonment for petty crimes means that they are unable to support their families.

Lack of manpower

Of the seven female probation officers in Pakistan, one is in Punjab and six in Khyber- Pukhtunkhwa. There are none in Sindh and Balochistan. As a result, out of the 242 women given probation between January and March 2010, 225 were from Punjab and 17 from Khyber-Pukhtunkhwa. There were none from Sindh and Balochistan as women offenders cannot be placed with male probation officers. This is in spite of the fact that women and children are usually first-time offenders and are more likely to get released on probation if officers are available. As for female parole officers, there are two each in Punjab and Balochistan.

Sindh and Khyber-Pukhtunkhwa have none. In the case of male parole officers, eight are in Punjab, two each in Balochistan and Khyber Pukhtunkhwa and one in Sindh. "We realise there are problems in this sector which is why we have started advertising for these posts," says the Sindh Minister for Prisons Muzaffar Ali Shujra. He added that from the Rs330 million reserved for prison reforms in the province, 22 new appointments will be made by June 2010. Of these, some posts will be reserved for female officers, says Shujra.

Challenges of rehabilitation

Mangi admits that poverty and unemployment are behind most crimes. "Our first challenge is to ensure that the offender finds a job so that he remains occupied, but with the increasing rate of unemployment that has become quite a challenge for us," he says. In a year, Mangi is expected to report 2,000 cases to court and be able to supervise about 50 probations cases at a time. "Due to the workload on probation officers, monitoring offenders can sometimes become difficult.

Taking advantage of this, the offenders sometime commit other crimes during the probationary period." In such a scenario, the court has the authority to revive the offender's punishment "There is lack of awareness within the courts and among the police about this law which is why far too many people are sent directly to prisons without trying other methods of care," says Detho. "Instead of increasing the budget for prisons, we need to enforce this law and prevent prisoners from becoming an economic liability on the government. This can only be done by training the police right from the junior level who register FIRs in police stations."

Published in the Express Tribune, May 26th, 2010.