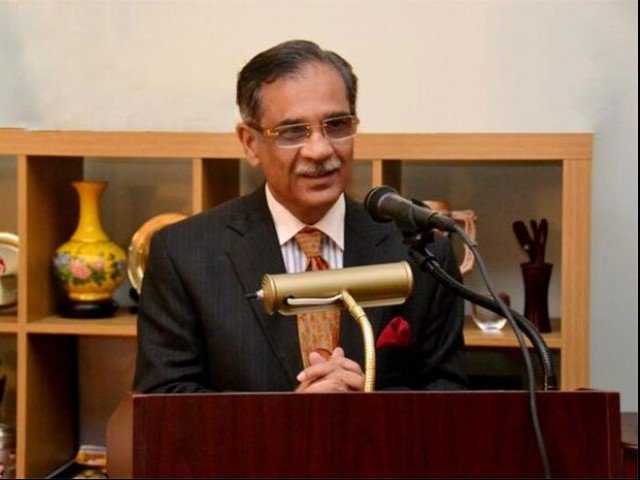 ---
ISLAMABAD: Chief Justice of Pakistan (CJP) Mian Saqib Nisar has urged parliamentarians to give the judiciary respect it deserves.

"We respect parliament and we expect that the parliamentarians should do the same with us," says the chief justice while hearing a number of petitions against the Elections Reforms Act 2017, which paved the way for former prime minister Nawaz Sharif to head his party despite being disqualified.

Several PML-N leaders including Raja Zafarul Haq, Saad Rafiq, Pervaiz Rashid, etc, also appeared before the three-judge bench during the hearing.

Judiciary, establishment planned Sharif ouster, claims Mushahidullah

The chief justice told the PML-N leaders that the court's restraint should not be considered as its weakness, adding that the statements against the judiciary come before us "but we show restraint because we do not want to divert our attention".

The chief justice of Pakistan said that it is their duty to give justice, whether someone likes or not. He also urged the PML-N leaders not to discredit the judiciary; otherwise, the institution would become weak and it would be difficult for the next generation to get justice.

However, he said that they will do everything to preserve the prestige of the judiciary, adding they will set parameters of the Supreme Court jurisdiction.

The chief justice said, "Requests can be made before the court, but it cannot be pressurised."

Sharif ridicules rivals at Haripur rally

Earlier, PPP lawyer Sardar Latif Khosa requested the bench to take notice of the malicious campaign against the judiciary, adding that institutions are being destroyed. "Even the Supreme Court is the protector of the Constitution."

Meanwhile, the bench rejected petitioner Sheikh Rashid's counsel, Farogh Nasim's plea to suspend the specific provision that paved the way for Nawaz Sharif to become party head till the time a final order is issued by the court.

The bench observed that once parliament approves law then it cannot be suspended. The chief justice asked how an act of parliament can be suspended. He also made it clear that they will review the law and decide the matter expeditiously.

Women's Action Forum urges top judge to apologise for 'sexist' comment

Raja Zafarul Haq, senior PML-N leader, requested the bench to grant two weeks time for the preparation of the case as they received the case notice on last Friday.

The bench accepted his plea and allowed to file reply within ten days. The next date of hearing is February 6. The court has also issued notice to the Attorney General for Pakistan in the matter.

After hearing preliminary arguments from the petitioners, the bench on January 1 issued notices to Sharif, the PML-N and secretaries of the Election Commission of Pakistan (ECP), the National Assembly and the Senate.

The petitioners – including PTI Chairman Imran Khan, PPP General Secretary Nayyar Bukhari and Awami Muslim League Chief Sheikh Rashid – claimed amendment in the law is against the Constitution.