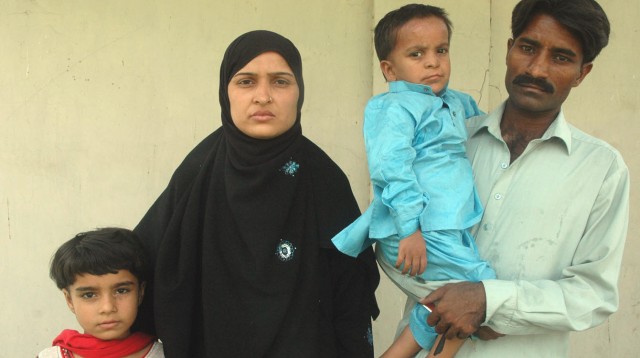 ---
SUKKUR: Five-year-old Bilal's family continues to be harassed by men from the Bugti tribe in New Pind even though they waived the interest on the loan earlier in May.

Bilal's father Rustam borrowed the money to pay for Bilal's palate surgery but four months later the creditors demanded Rs200,000 interest on a Rs6,000 loan. When the family was unable to pay, they threatened to harm them or kidnap their children until they did. The police assured Rustam and his wife Sana that they would be given protection but have failed to provide them any shelter.

A few days ago, Bugti men forcibly entered their house and tried to kidnap Bilal's six-year-old sister Mehak. When the news was aired on television in May, the lenders waived the interest on the loan and even signed an affidavit that promised that they will never demand the money again. Sana told Express News that the creditors mistreated other members of the family as well when they forced into the house. She also blamed the New Pind police for being involved with the Bugti men because they never cooperate with them when they go to the police station with their complaints. SHO New Pind Police Station Khan Muhammad Abbasi denied that Bilal's family is being harassed.

He added, however, that they are making arrangements for their safety. DPO Sukkur Aitzaz Goraya had promised on May 9 that he would take action against the accused and directed the SHO to provide protection to the family until the issue was resolved. Goraya has also ordered an inquiry into the people who are charging exorbitant interest rates. Bilal was born with a cleft lip and no upper palate. He has already undergone a surgery for his lip. Rustam used to be a security guard but is now unemployed while Sana was employed as a school teacher.

Published in the Express Tribune, May 26th, 2010.