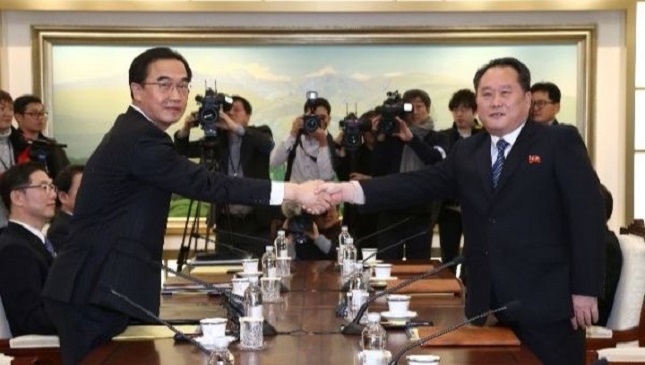 ---
ISLAMABAD: Pakistan welcomes the recent talks held between the Republic of Korea (RoK) and Democratic Peoples' Republic of Korea (DPRK), stated a press release issued on Tuesday by the Foreign Office (FO).

Lauding the goodwill generated by the Pyeongchang Winter Olympics, the FO statement said Pakistan "hopes that this new phase of talks between the two sides would help to ease tensions in the Korean Peninsula" and would "lead to lasting peace, prosperity, stability, reconciliation and cooperation in the region."

South Korea offers high-ranking government talks with North Korea

The statement further said that Pakistan has always encouraged North and South Korea to resume "meaningful negotiations" to reconcile, stating that the country has "supported all efforts for smooth reunification of the Korean Peninsula including the two Summits between North and South Korea in June 2000 and 2007."

"It has been Pakistan's consistent position that all relevant parties should comply with their international obligations, pursue the path of dialogue and diplomacy to reduce tensions and work towards achieving a comprehensive solution," the press release added further.

The statement comes after the two Koreas agreed to hold working-level talks at the Tongil Pavilion on the North Korean side of the truce village of Panmunjom on January 15.

North Korea reopens border hotline as Trump boasts of 'bigger' nuclear button

Officials from North and South last week said they had agreed to hold negotiations to resolve problems and avert accidental conflict, after their first official dialogue in more than two years amid high tension over the North's weapons programme.