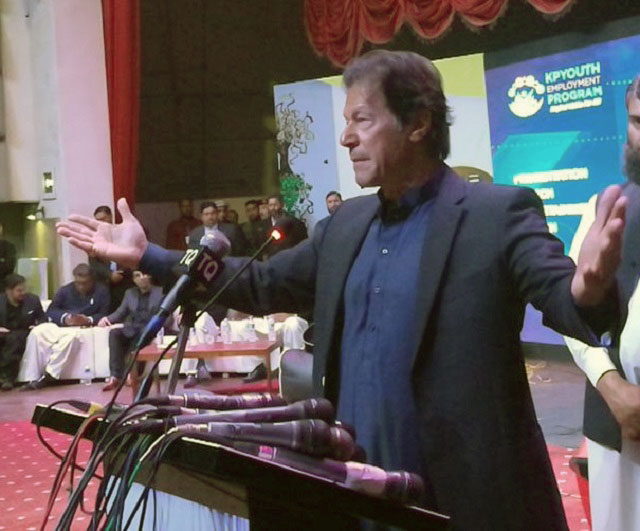 ---
PESHAWAR: Criticising the Punjab government over, what he claimed, its failure to improve the provincial police department, Pakistan Tehreek-e-Insaf (PTI) Chairman Imran Khan said that despite being in the power for 19 years, Sharif brothers – deposed PM Nawaz and CM Shehbaz – have failed to reform police.

"People don't trust Punjab police," he said on Friday while addressing a ceremony in Peshawar for distributing certificates among 3,000 students taking part in the KPITB Youth Employment Programme.

"We have appointed the inspector general (IG) in Khyber-Pakhtunkhwa on merit… performance of K-P police makes me happy," he remarked, adding that merit could only be implemented once institutions were strengthened.

The statement came on the heels of Punjab police's crackdown on people protesting against the brutal murder and rape of eight-year-old Zainab in Kasur that allegedly killed two protesters and injured many others on Wednesday.

In latest broadside, Nawaz accuses Imran of biting the hand that feeds him

Taking a jibe at Pakistan Muslim League-Nawaz (PML-N) leadership, the PTI chief said nations do not progress by building roads in advertisements. "Sharif brothers can do nothing but deceive the masses," he added.

Khan said 10 out of 11 suspects had been arrested in connection with a 16-year-old girl paraded naked in Dera Ismail Khan, adding that if persuaded properly, bureaucracy can perform tasks that even the private institutions would struggle to take on.

"A donkey doesn't turn into Zebra by painting stripes," he remarked in an apparent reference to recently changed uniform of the Punjab police.

While visiting Kasur to offer condolence to the Zainab's family on Wednesday, Imran had said the police system in Punjab was spoiled by Sharif brothers.

"Criminals were inducted in the police force to protect the Sharifs," he said, adding that the Sharifs had 2,500 policemen for their security and spent Rs7 billion on security for themselves.

Bringing up the Model Town incident in Lahore, the PTI chief likened the Punjab police reaction from 2014 to what was witnessed in Kasur.

"The Model Town incident showed how the police are in their control. The victims haven't been provided justice as yet, something which can be witnessed by the entire nation," Imran added.

Imran says PTI to join Qadri in protest movement


Investment in youth




No nation on earth can develop unless it invests in youth and strengthens its institutions, Imran said.




Stressing upon investing in human capital, he said: "Meritocracy exists wherever institutions are strengthened like what we have done in Khyber Pakhtunkhwa where police detained eight out of nine people when a girl was paraded naked in Dera Ismail Khan," he said.




Khan said that in the modern age, information travelled instantaneously, adding that the youth employment programme would even benefit women, enabling them to work from home and earn enough money to take care of their families.




Youth, he said, should never look back or think about failure. They should always move forward, he said.




Pakistan, he said, had been created as a welfare state but it became a country for the privileged, allowing them to get quality education.




Criticising the Sharif brothers, he said that no roads, metros and large advertisements could change the nation's destiny. Progress, he said, could only be achieved by investing in youth, strengthening institutions and enabling them to work without political influence.




The Sharif brothers, he said, had ruled Punjab for 19 years but the performance of police could be gauged from the fact that the family of the Kasur incident victim had to approach the chief of the army staff and the Supreme Court for justice.




Terming global warming and pollution major challenges, he said that the provincial government had successfully planted a billion trees in just one year to improve the local environment.
COMMENTS (1)
Comments are moderated and generally will be posted if they are on-topic and not abusive.
For more information, please see our Comments FAQ