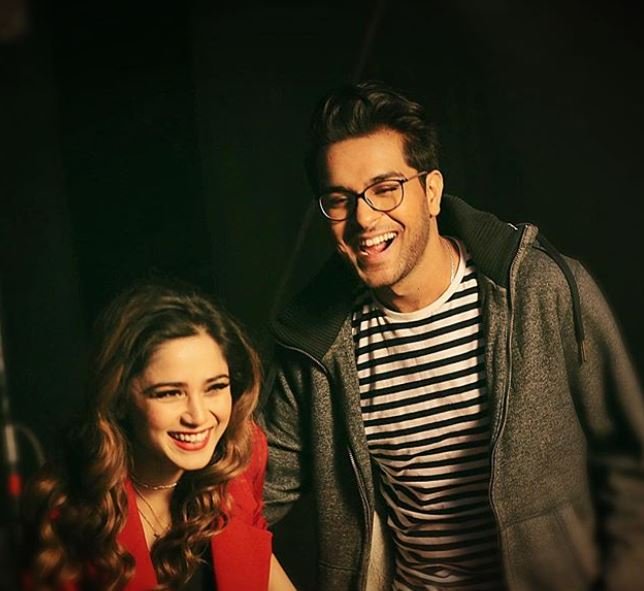 ---
KARACHI: The start of 2018 has brought a new year's gift from popular singers Aima Baig and Asim Azhar. The two have collaborated on a duet titled Teriyaan which was released on January 1. The melodious song which is written and composed by Azhar, deals with the conflict between two lovers.

Speaking to The Express Tribune, Azhar shed light on his inspiration for the song. "The idea is that you give everything you have to someone you love and yet you are not owned by them in front of the world. It's scary and you feel it even if they don't say it and you don't even talk about it," he said.

Coke Food and Music Festival is back to feed your senses

The music video, directed by Adnan Kandhar, shows the singers in a relationship, set in a minimal setup – a phone booth, a stage and a table where they sit. Yet it manages to convey the meaning of the song fully.

"Adnan understood the concept very well and pulled it off in a short time," said Azhar, adding that it was completed in a nine-hour shoot. "It's a symbolic video but if you look closely, the visuals and the lyrics go hand in hand. I would love to work with him again."




Baig shared how she got the chance to work with Azhar on Teriyaan. "Asim and I were sitting in the studio and he wanted to do a duet. We thought about selling it to a film but then decided against it. We wanted to do a single with no brand associations and focus on individual artists."

Azhar added, "We had a brand that was interested but we thought it wouldn't come across as effective if the video was backed by sponsors. In fact, the song has been ready for about five months. We only managed to release it now."


Kandhar also explained, "There is a story within the video. You see Baig and Azhar's performance and the different things come together to tell their story." He is also working on his next music video of Nabeel Shaukat's upcoming song which is planned for a release later this month.

The two young singers have been making waves in the last couple of years with both being featured in Coke Studio as well as doing playback for films. As far as their expectations for 2018 are considered, Azhar said he has signed a deal with an international record label and plans to do another single this year followed by an album next year.

Paying musical tribute to Pashto poets

Baig said she doesn't plan to do an album yet but will be releasing singles which differentiate her from the traditional pop genre she belongs to. "I am more into classical music, so I want to do that kind of music now. My upcoming single will be a classical one," she said. "I also want to compose. I aim to be Pakistan's first female composer."




She is also set to make her Bollywood debut this year. "I have sung two songs, one solo and another is a duet with one of my favourite singers," she said, but added that she couldn't reveal the singer's name yet.

Apart from singing, one of Baig's hidden talents is writing. As to if we shall be seeing her work come to life on screen anytime soon, she said that she has written her uncle Mubashir Luqman's new film.

Have anything to add to the story? Share it in the comments below.
COMMENTS
Comments are moderated and generally will be posted if they are on-topic and not abusive.
For more information, please see our Comments FAQ