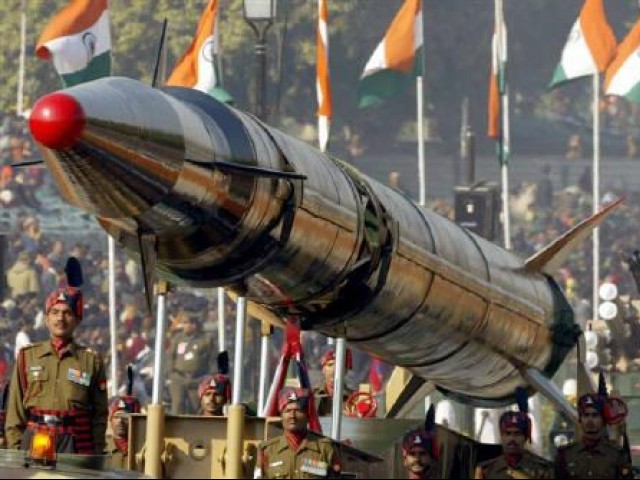 ---
India experimented developing its two-tiered ballistic missile defence (BMD) shield, which has been long in the making, by testing an Advanced Air Defence supersonic interceptor missile to destroy an incoming ballistic missile over the Bay of Bengal.

Pakistan has expressed serious concerns multiple times over the building and development of inter-continental ballistic missiles by India, Radio Pakistan reports.

Indian measures would disturb strategic balance in the region, Pakistan claims.

India initiates 'mother of all underwater defence deals'

This was the third supersonic interceptor test carried out this year. It was a part of efforts to have a full-fledged multi-layer Ballistic Missile Defence system. The earlier two tests were conducted on March 1 and February 11, 2017, respectively.

The interceptor is a 7.5-meter long single stage solid rocket propelled guided missile equipped with a navigation system, a hi-tech computer and an electro-mechanical activator, Times of India reported.

The state-of-the-art interceptor missile has its own mobile launcher, secure data link for interception, independent tracking and homing capabilities and sophisticated radars.

Earlier in year, India kick-started its "mother of all underwater defence deals" after a 10-year delay, with France, Germany, Russia, Sweden, Spain and Japan being in the fray to build six advanced stealth submarines for an estimated $10.9 billion with an Indian shipyard.

The conventional submarine programme called Project-75  is likely to be the first mega project under the new "strategic partnership" policy finalised by India's defence ministry in May. However, the six shipbuilders, Naval Group-DCNS (France), ThyssenKrupp Marine Systems (Germany), Rosoboronexport Rubin Design Bureau (Russia), Navantia (Spain), Saab (Sweden) and the Mitsubishi-Kawasaki Heavy Industries combine (Japan), have to first respond to the RFI (request for information) issued to them by September 15.