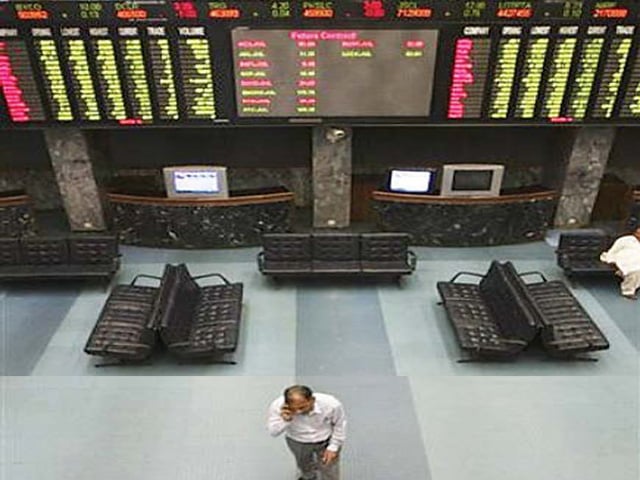 ---
KARACHI: Stocks ended lower on Monday in thin trade as cautious investors sold shares because of uncertainty over what might be in store in the budget for the next fiscal year, dealers said.

The budget for the 2010/11 fiscal year is scheduled to be announced on June 5. The Karachi Stock Exchange's (KSE) benchmark 100-share index closed 1.86 per cent, or 183.75 points, lower at 9,687.41 points. "There is a lot of uncertainty regarding the upcoming budget and therefore investors prefer to sell their holdings," said Sajid Bhanji, a dealer at brokers Arif Habib Ltd. "After decreasing by 3.9 per cent last week, local bourses continued witnessing a bearish trend on the first trading day of the week," said Faiza Naz, an analyst at JS Global Capital.

Dealers said investors were also on the sidelines ahead of the announcement on Monday of monetary policy for the next two months. The State Bank of Pakistan (SBP) decided to keep the policy rate unchanged at 12.5 per cent, as predicted by analysts who believe inflation still poses a threat. Monday's trade volume stood at 73.67 million shares. Secondtier stocks were the volume leaders during the day while some activity in the oil, cement, fertiliser and banking sectors was also witnessed.

Total exchange value stood at a disappointing Rs2.99 billion. During the day's trade, 78 stocks closed higher, 308 declined and 20 remained unchanged in value. Lotte Pakistan (KSE: LOTPTA) was the volume leader with 12.72 million shares gaining Rs0.03 to close at Rs9.73. TRG Pakistan (KSE: TRG) came second with 5.37 million shares gaining Rs0.09 to close at Rs4.98. Lafarge Pakistan (KSE: LPCL) finished third with 3.76 million shares losing Rs0.22 to close at Rs3.

There was across-the-board selling as heavyweights Pakistan State Oil (KSE: PSO), Lucky Cement (KSE: LUCK) and MCB Bank (KSE: MCB) fell 2.8 per cent, 4.5 per cent and three per cent respectively. "There was positive activity in Faysal Bank's scrip (KSE: FABL) following the unconfirmed news of FABL winning the bid for Royal Bank of Scotland Pakistan's (KSE: RBS) operations," said Faiza Naz. RBS was also the KSE-100 top gainer of the day, its share price rising 7.28 per cent to Rs14.73.

There was bad news for the cement sector as most of the scrips witnessed heavy selling. Fauji Cement Company (KSE: FCCL) was in the losers list dropping 7.33 per cent to Rs5.31. Bestway Cement (KSE: BWCL) closed in the red, its share price shedding 6.3 per cent to close at Rs15.

Published in the Express Tribune, May 25th, 2010.
COMMENTS
Comments are moderated and generally will be posted if they are on-topic and not abusive.
For more information, please see our Comments FAQ