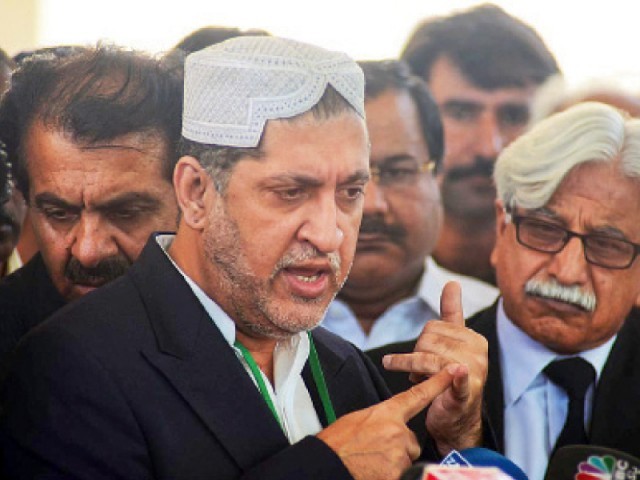 ---
QUETTA: Balochistan National Party (BNP) President and former chief minister Sardar Akhtar Mengal has claimed that Balochistan is no longer treated as a federating unit of Pakistan and its status has been reduced to that of a colony.

Welcoming Nawabzada Lashkari Raisani to the party at a huge gathering of party representatives on Sunday afternoon Mengal demanded that the people of Balochistan be given complete sovereignty over the resources and precious assets that come out of the province.

The BNP president also lashed out at anti-democratic elements in Pakistan who he blamed for robbing the people of Balochistan of their democratic rights.

BNP-M will contest elections: Mengal

He said that people, mainly those who mould public opinion, have been told not to discuss projects like Saindak, Reko Dick, CPEC and other relevant issues on public forums because unexplained sensitivities are involved.

The BNP president said that the image of Balochistan inculcated in the world is one of corruption and dishonesty, whereby the government is deemed one of the most corrupt.

He rejected CPEC and claimed that Balochistan has so far received no benefit from the project. He said he had asked a pertinent question at the All Party Conference held in Islamabad and demanded the details of the US $46 billion investment in Pakistan. The money was actually invested in Punjab and the three remaining provinces were denied their legitimate share, Mengal told his audience.

Akhtar Mengal returns to Pakistan

He said that his party has always supported development projects and contrary to common belief have never opposed developmental work. However, he said, that from the start his party demanded that the people of Balochistan benefit from the projects economically.

He ridiculed the politics of Imran Khan saying that his singing, dancing and using questionable language against opponents do not appeal to the people of Balochistan.

Raisani, who also spoke on the occasion, called for complete provincial autonomy in the spirit of the Pakistan Resolution of 1940.

Criticising Dr Tahirul Qadri, Raisani said that he was demanding action over the killing of 14 people in an agitation campaign while ignoring thousands of Baloch people who lost their lives.

Solving Balochistan's issues is simple, if you have the courage for it: Akhtar Mengal

Resolving to wage a relentless struggle to expel all dubious characters from national politics, he said that it was time to start clean and honourable politics.

Appealing to all genuine parties and political forces, he said that they should wage a joint struggle without any discrimination, adding that this was the only way to make Pakistan a true democratic federal state.

Complaining that the people of Balochistan, especially their chosen representatives were being ignored, he said that they were not being treated with proper respect as this country's citizens.