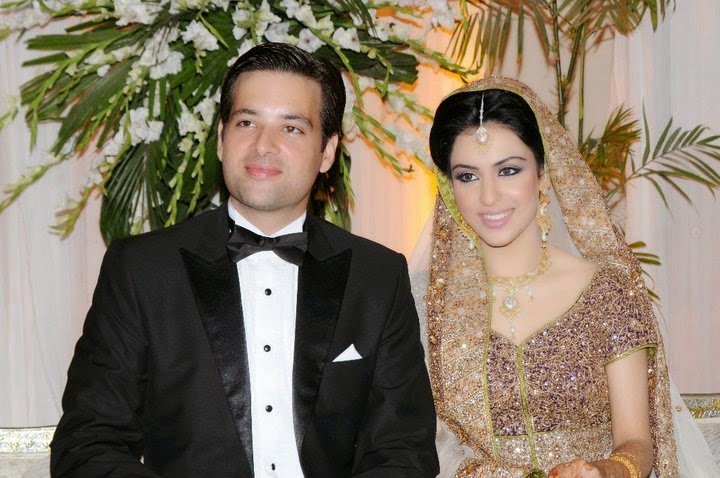 ---
KARACHI: They say the best thing to hold onto in life is each other, but what does one do when it becomes impossible to do so?

The past year saw a lot of heartbreaks, and we bring to you the eight most shocking break ups that left us heartbroken too:

Wali Khan and Noor Bukhari





Noor Bukhari filed for divorce from her fourth husband, Raga Boys singer Wali Hamid Ali Khan earlier this year. Wali, who hails from the Patiala gharana and Noor got married about three years ago, during the shoot of Ishq Positive. Noor and Wali were the lead pair of the film.

Soon, however, the relationship took a turn for the worse. Just last year, Noor's mother had filed a police report claiming that Wali had been torturing her daughter.

"Despite my best efforts, I cannot continue with this marriage. Nonetheless, I will state that Wali is a good man and perhaps it's our bad luck that we cannot live our lives together anymore," Noor told The Express Tribune.

Nouman Javaid and Jana Malik




Soon after his divorce from singer Fariha Parvez, Pakistani star Nouman Javaid made headlines for his second marriage to Mor Mahal actor Jana Malik. While the couple tied the knot in September 2016, rumours of their split soon started to surface in early 2017.

The two parted ways in March, 2017 and their marriage, unfortunately, came to an end. The two were married for not even a year and separated with mutual agreement.

Mikaal Zulfiqar and Sara Bhatti




Early this year, actor Mikaal Zulfiqar announced that he and his then-wife Sara Bhatti were getting a divorce.

In a Facebook post, Mikaal confirmed that he and Sara decided to officially end their marriage after a long separation. "Wanted to say this for a while. Finally found the courage to do so. Sad to announce, unfortunately my marriage of 6 years has ended. After a long separation and despite efforts from both ends, things could not be resolved, which has resulted in divorce," he wrote.

Farhan Akhtar and Adhuna Bhabani




Actor Farhan Akhtar, and celebrity hairstylist Adhuna Bhabani, who were married for 16 years divorced earlier this year.

Farhan, who officially announced their separation last year on social media, filed for divorce in October 2016 at the Bandra Family Court and waited for six months for the court order, said a source.

In mid-April, they arrived at the court and their marriage ended legally with the 'mutual' divorce granted by the court.

Arbaaz Khan and Malaika Arora Khan




The celeb-couple, always the toast in high-profile parties and glam circles, were married for 18 years and have a 14-year old son, Arhaan.

While Malaika, 44, has secured custody of Arhaan, Arbaaz, 49, will have visitation rights, as per the settlement reached in the family court.

Separated for over two years, the couple filed for divorce in October 2016, and later attended a mandatory counselling session on November 29 2016 but failed to reconcile. They officially divorced in May, 2017.

Chris Pratt and Anna Faris




One of the most beloved and seemingly in-love duos in Hollywood, fans never saw the demise of the Jurassic World and Mom stars coming. After eight years of marriage, Pratt and Faris announced they were legally separating in a joint statement shared via social media on August 6, 2017.

"We are sad to announce we are legally separating. We tried hard for a long time and we're really disappointed," Faris shared in a message posted to Instagram, which was signed by both of them.

"Our son has two parents who love him very much and for his sake we want to keep this situation as private as possible. We still love each other and will always cherish our time together," the message further read.

The Weeknd and Selena Gomez




'The heart wants what it wants' and in the case of these musical superstars, their hearts wanted different things. After 10 months of dating, Selena and The Weeknd were no more.

The pair was first linked in January, following The Weeknd's split with Bella Hadid. After being spotted getting cosy at Coachella in April, they made their red carpet debut at the Met Gala in May.

The Wolves singer appeared to be getting serious with her new man, as they rented a temporary house together in New York in September. Alas, they ended things just weeks later.

Brad Pitt and Angelina Jolie:




This can probably be classed as the breakup of the year. Angelina Jolie and Brad Pitt, known collectively as "Brangelina," were one of the entertainment world's most visible couples, due to their good looks, successful films and activism. They married in 2014 after a decade together.

Pitt, 52, was married to Friends star Jennifer Aniston in 2003 when he and Jolie filmed Mr. & Mrs Smith, the story of assassins unknowingly assigned to kill each other. There were reports of an affair but Jolie told Vogue they were only "very, very good friends" until Pitt and Aniston split in 2005.

The pair was married for six years and they have two daughters together.

Have something to add to the story? Share it it the comments below. 
COMMENTS
Comments are moderated and generally will be posted if they are on-topic and not abusive.
For more information, please see our Comments FAQ