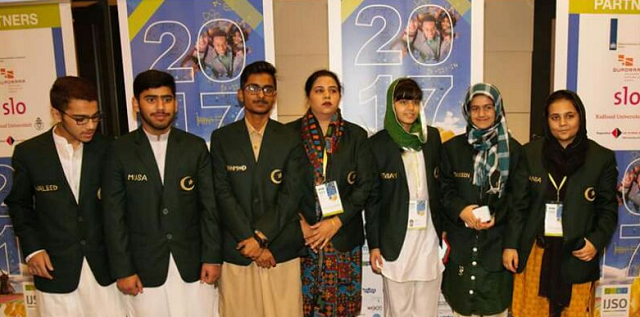 ---
A Pakistani Student Tuaseen Zafar from Fauji Foundation School, Chakwal won a bronze medal at 14th International Junior Science Olympiad (IJSO) held in the Netherlands in December.

Six Pakistani students participated in the IJSO 2017. The Olympiad is an annual individual and team competition in the field of natural sciences for students who are under 16 years of age on December 31 of the competition year.

IM Sciences to represent K-P in national finals

The competition is held in the first week of December every year, in different countries. Currently, around 50 member countries participate in IJSO every year. The Olympiad aims to introduce the students at a young age to an international network of science enthusiasts and increase the interest in natural sciences among students under the age of 16.

In IJSO 2017 over 300 students from different countries represented their understanding in the fields of biology, chemistry and physics.

The students were given three individual tests followed by a practicum requiring a team effort and worked on real-world challenges related to this year's theme of water and sustainability.

'Water' has become an important issue worldwide. Access to good, clean drinking water is an increasing problem in some countries, while the low lying countries run an increased risk of catastrophic floods because of climate change.

IJSO was established in recognition of the significance of the Natural Sciences in the general education of young people and in all aspects of their lives.

With the efforts of Pakistan Science Foundation (PSF) Chairman Prof. Dr. Muhammad Ashraf, Pakistan became a member of IJSO in 2016 and participated in the event held in Bali Indonesia. In 2016 also Pakistan had won Bronze Medal in Experimental Design competition.

PSF, after strict written test and interview selected six students for participation in the event. The students' team led by PSF's Senior Science Promotion Officer Syeda Rehana Batool took part in both the events and won laurels for the country.

The PSF Chairman has termed the Pakistan team's success a very astounding achievement indeed.
COMMENTS
Comments are moderated and generally will be posted if they are on-topic and not abusive.
For more information, please see our Comments FAQ