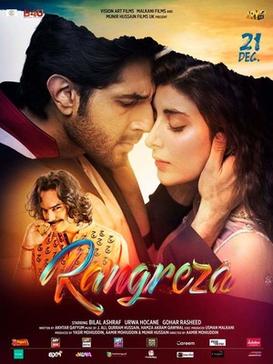 ---
KARACHI: The nascent film industry of Pakistan has produced more misses than hits so far. Rangreza is one of the misses, which had the potential to be next standout film of 2017, after Punjab Nahi Jaungi. Yet, even when it gets more than a few elements right, the film fails to capitalise on them and deliver a coherently-structured, engaging narrative.

Directed by Amir Mohiuddin, Rangreza revolves around a pop star named Ali Zain (played by Bilal Ashraf), his love interest Reshmi (Urwa Hocane) and her cousin and fiancé Waseem (Goher Rasheed). Waseem, a dholak player comes from a musical family and Reshmi has been promised to him since they both were young. When Ali shows interest in her, there is a clash of the two musicians and families.




It's not a fresh and original premise but one that had great potential to offer memorable characters and a gripping experience. Rangreza took that ball but didn't quite run with it. What it gets right is the music and cinematography. With tracks like Abida Parveen and Asrar's Phool Khil Jayen and J Ali's title track, the film delivers music that will be a part of everyone's playlists for months to come. The cinematography, and art direction is spot on as well. The camerawork complements the scenes and brings together a relatively well-crafted visual language.

What bites Rangreza is the fact that most of the other elements fail to fulfill their intended purpose. Its major fault would be the haphazard pacing and editing. The biggest sin Pakistani films commit is that they linger around and try to build up to something but then, end without a convincing payoff. They delve into monotony. Rangreza does the exact opposite.




Rangreza's latest track 'Balamwa' depicts Gohar Rasheed's brilliance

In all forms of narrative art, buildup leads to pay-off and that's the precise reason it makes sense. The audience is taken through a journey which leads to the climax. Even a comic one-liner has a structure to adhere to. In Rangreza, there's no buildup to the drama or conflict. It just jumps directly to it. So much keeps happening, yet most of it has minimal impact because of the lack of a good setup, buildup and transitions. It's almost comparable to a comedian telling a one-liner and stopping mid-way, only to start another one. Rangreza's ECG monitor shows a rapid irregular and anxious heartrate right in the middle of a panic attack.




The slapdash script focuses too much on developing Waseem in the first half, while almost completely forgets him in the second. Reshmi, the one who is being fought over, is relegated to the status of a plot device with not a lot of value to its progression. Fundamentally, the main thread connecting everything is flawed. Subplots are not resolved, consistency in details is neglected and it results in an unentertaining mumbo-jumbo which plays on a very superficial level and is afraid to dive into its subject matter fully.

Rangreza makes use of all the clichés: lovers meeting at a shrine, a chess game between politicians, and classic 90s Bollywood peacock imagery associated with the lady in love. Yet it fails to tie them up together in a way that they add to the story. One significant example of the disjointed structure would be the addition of the much-promoted song Kallu, which had no relevance to the story except tell us that Kallu just had a newborn son. Who's Kallu? Why is he important to the story? Why are we celebrating his baby's birth? These are some of the questions that will never be answered.

Rangreza's latest track, 'Bagiya' is love personified




When it comes to performances, the failure of the antagonist Waseem has nothing to do with Rasheed's skills, but rather the director. Mohiuddin's treatment and execution seems an injustice to the actor and his extremely interesting character. Rasheed's body language was near perfect, but his dialogue delivery was so over-the-top, it felt unnatural. For a theatre actor, it's natural to be more expressive, but it is to be toned down to fit the film medium's sensibilities. It's the fault of the director that he couldn't make Rasheed adjust to it. In fact, the costume department did more justice to him as the choice of his kurta pajamas was hilarious and more revealing of his character.

As far as Ashraf and Hocane are concerned, it's difficult to find words to describe their performances. I believe I am too late in recognising Hocane's inability to play any role but herself. In her three films in 2017 – Na Maloom Afraad 2, Punjab Nahi Jaungi (PNJ), and Rangreza, she has only played herself. In PNJ, she was saved by the hilarious viral one-liner 'Help me, Durdana' and less screen time. Rangreza just finally exposed her lack of charisma and acting skills. In fact, Ghana Ali as Saba was better in her role and came off as more realistic than the lead.




Ashraf, despite relatively being a newcomer, cannot perform. His stiff body language and lack of expressions prove that good looks aren't enough to carry a film. Here's hoping he shows at least some potential in his next project.

Overall, Rangreza is a sad case which delivers on a few fronts but fails by a large margin on major ones, therefore diluting its experience. It may attract the crowd for the music, which is one of the best to come out in recent time. Otherwise, the film spellbinds you with beautiful colours but only manages to form a vague picture. It is a musical which gets its rhythm wrong, narrative-wise.

Gohar Rasheed to do 'item song' with 200 transgenders in 'Rangreza'

Verdict: If you want to check out Goher Rasheed's idiosyncratic character Waseem and enjoy some great music, do watch Rangreza. Otherwise, just check out the film songs online. You won't miss much.

Rating: 1.5 out of 5 stars

Have something to add to the story? Share it in the comments below. 
COMMENTS (3)
Comments are moderated and generally will be posted if they are on-topic and not abusive.
For more information, please see our Comments FAQ