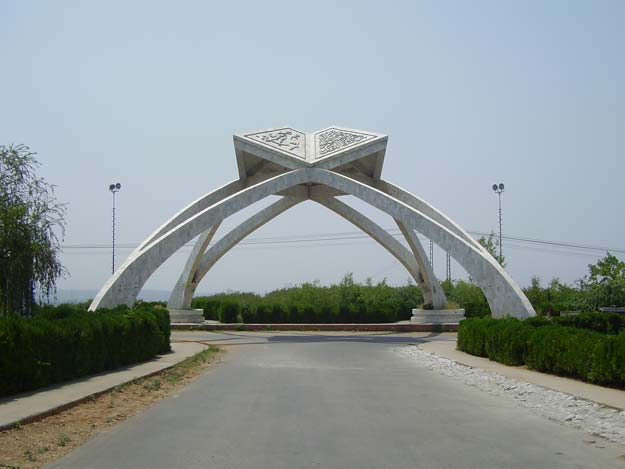 ---
ISLAMABAD: The third anniversary of barbaric attack on Army Public School in Peshawar three years ago in which 144 people including students and teachers were martyred by the Taliban was observed by Quaid-i-Azam University (QAU) in a different yet worth-emulating way.

The students and faculty members of QAU planted 144 fruit trees, one for each martyr, at different places at the campus including Bioinformatics and Pharmacy Departments, Central Library and QAU Nursery.

The funds for the activity were provided by Shehzadi S Khan, a Pakistani student studying in Canada. The activity was organised by Hunain Mehdi and Zahid Yaqub, MPhil students of School of Politics and International Relations and Rasheed Khalid, former head of Horticulture Cell of the university.

APS tragedy mourned on social media

Family members of the students and gardeners from Horticulture Cell of the university also attended the activity.

QAU choose Assistant Attorney General of Pakistan Azhar Hussain to be their chief guest for the fact that he had received seven bullets in the Taliban attack on district courts, Islamabad, in 2014, and survived.

Hussain, a recipient of Tamgha-e-Shujaat still has a bullet lodged in his leg, but this could not deter. He and his family planted plum, apricot and apple trees. He vowed to again resist the bigot religious extremists if they strike again.

After planting a tree, QAU Dean of Social Sciences Dr Waqar Shah said that the parents of the children killed in APS attack suffered a great loss and remembering them by planting trees was a correct and best step which was also Sadqa-e-Jaria or a good deed that continues. He also led a prayer on the occasion.

'Your sacrifice has not gone in vain': COAS to martyrs of APS carnage

Dr Aslam Chohan, a veteran of Physics Department, also enthusiastically participated in the exercise and urged the participants to plant trees wherever and whenever possible.

Alumni Association of QAU also planted 40 guava, bottle-brush and sukhchain trees in the foreign faculty houses on the occasion.

The activity concluded by a lunch at Majeed Huts which had been rallying point of QAU old students since 1973.

Published in The Express Tribune, December 17th, 2017.