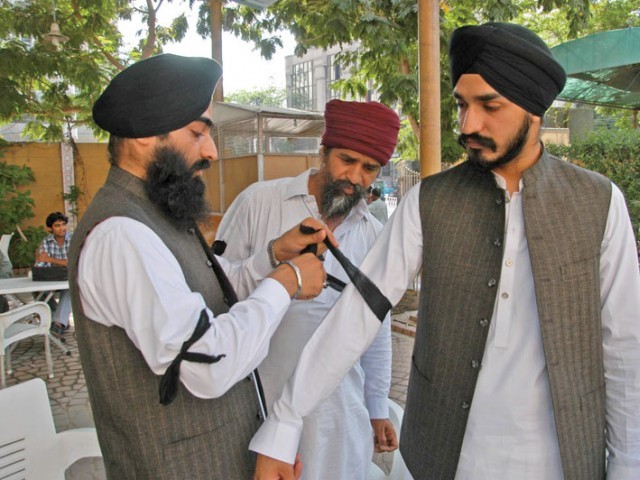 ---
PESHAWAR: The Sikh community raised on Friday serious concerns after 'being forced to convert to Islam' by a government official in Hangu district of Khyber-Pakhtunkhwa (K-P).

Lodging a complaint with Deputy Commissioner Hangu Shahid Mehmood, the community members claimed Assistant Commissioner Tehsil Tall Yaqoob Khan was allegedly forcing Sikhs to convert to Islam.

District Nazim Hangu for minority Farid Chand Singh, who filed the complaint, said the community members have been living in the area since 1901 and were never offended by anyone, specifically for religious believes rather lived all their lives peacefully with Muslims.

Singh stated that despite having been a hotbed for sectarian conflicts, residents of Hangu district never harmed them, were never approached by someone to convert to Islam, adding they have friendly relations with Muslims who have always stood up for the community when in need.

"Had it been from someone ordinary, it would have never been felt so offending but when you hear such things from a government official, it becomes something really serious," Singh told The Express Tribune.

Indian woman in 'love jihad' case says was not forced to embrace Islam

"We the residents of Doaba area are being tortured religiously," read the complaint.

"The Constitution empowers us to defend our religious beliefs against anyone and we want you to call AC Tall Yaqoob Khan and inquire the issue," the complaint read, adding that the issues should be investigated so that the community could live in Pakistan with 'love, peace and harmony'.

When asked, DC Hangu Shahid Mehood said members of the Sikh community were offended during talks with the assistant commissioner, which the assistant commissioner never meant.

There was no such issue of converting someone forcefully to Islam; rather, the district administration ensured religious freedom, he added.

"We have ensured religious freedom and safety of the community members across the district and we are clear about it," Mehmood told The Express Tribune.

However, on receiving the complaint, the community members have been asked for a meeting on Monday to address their concerns, he added.
COMMENTS
Comments are moderated and generally will be posted if they are on-topic and not abusive.
For more information, please see our Comments FAQ