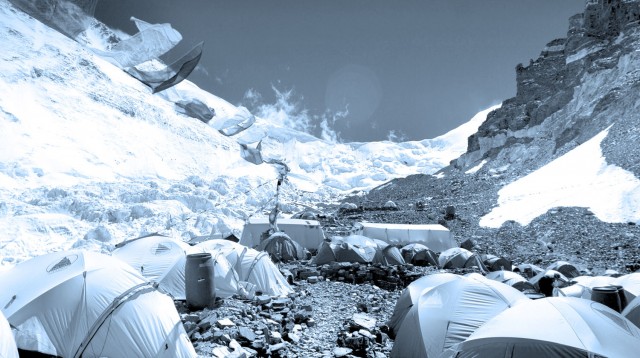 ---
KATHMANDU: More than 200 climbers reached the summit of Mount Everest at the weekend, taking advantage of good weather conditions in the final days of the climbing season, a Nepalese official said on Monday.

Dozens more are now in a race to conquer the world's highest peak before the brief season comes to an end later this week, Tilak Pandey told AFP by telephone from Everest Base Camp. "About 216 climbers have summited Everest over the weekend and at least 30 more are expected to climb tomorrow," said Pandey, an official with the Nepal mountaineering department. The figures do not include those climbing from the Tibet side of the mountain, the route chosen by American 13-year-old Jordan Romero, who on Saturday became the youngest person ever to climb Everest.

Authorities in Nepal do not register climbs from Tibet, but the mountaineering website explorersweb.com reported that Austria's Gerlinde Kaltenbrunner had reached the summit from that side early Monday. If confirmed, that leaves Kaltenbrunner with just one more mountain to climb to achieve her goal of becoming one of an elite group of mountaineers to have scaled the world's 14 highest peaks. South Korean Oh Eun-Sun last month became the first woman to scale all 14 peaks above 8,000 metres, closely followed by Spain's Edurne Pasapan a week ago. Around 2,900 people have climbed Mount Everest since Edmund Hillary and Tenzing Norgay became the first people to conquer the 8,848-metre peak in 1953.

Most climbers make their attempt in late April and May, when a small window between spring and the summer monsoon offers the best conditions for the ascent, although is is also possible to climb in early autumn. On Saturday, Nepalese mountaineer Apa Sherpa, 50, broke his own record by climbing Everest for the 20th time. His expedition also included a 16-year-old Arjun Vajpai, who became the youngest Indian to scale the peak. Pandey said just a few climbs had been possible from the Nepal side on Monday due to heavy snow, an indication that the monsoon was beginning. "Tomorrow, if the weather permits, we will see the last window of opportunity for the climbers," he said.

Published in the Express Tribune, May 25th, 2010.
COMMENTS
Comments are moderated and generally will be posted if they are on-topic and not abusive.
For more information, please see our Comments FAQ